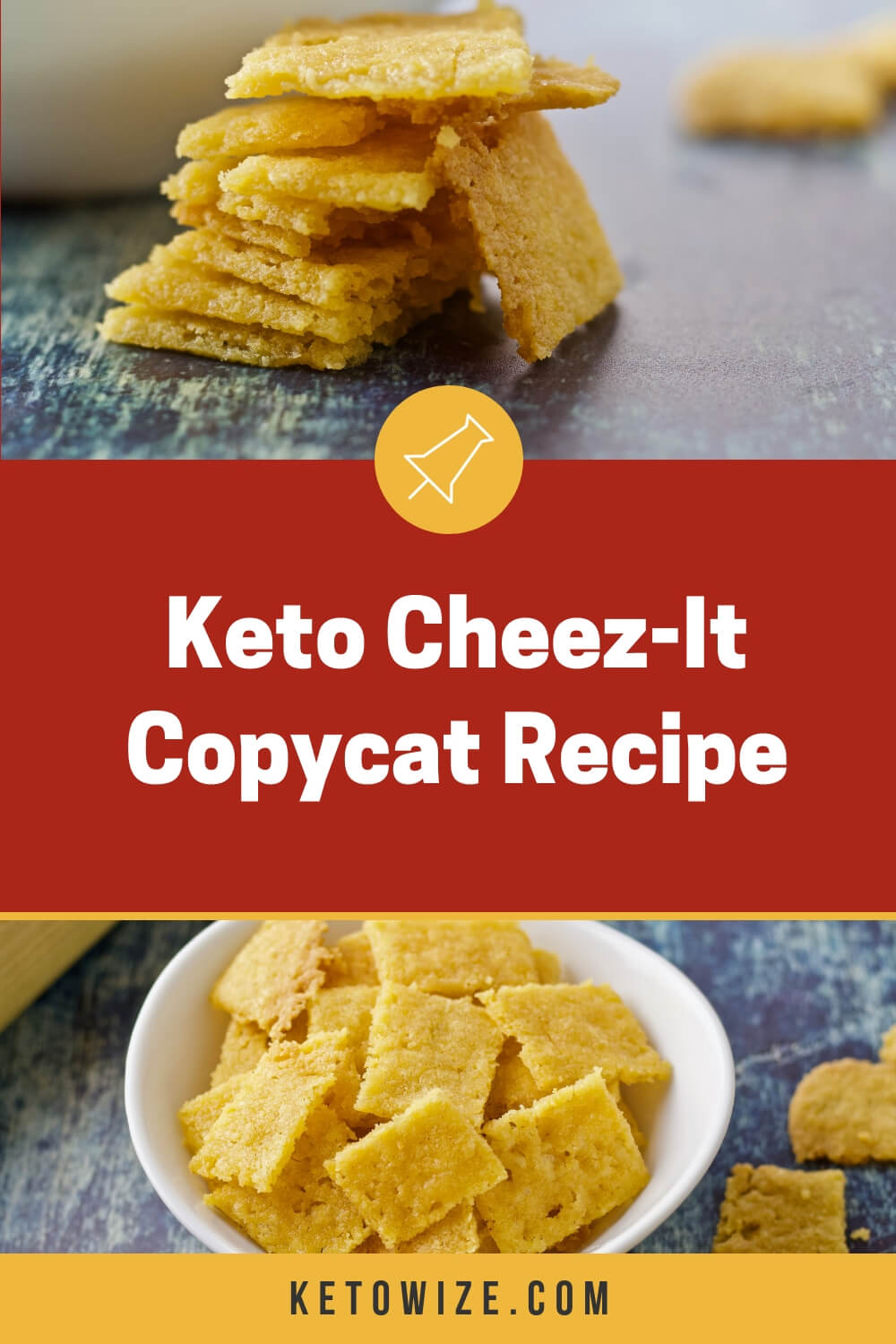 We've all been there!
If you've been on keto any length of time, you've probably been hungry, looked in the pantry, seen a box of crackers and said, "screw it!"
I know I have — more times than I want to admit.
That's why I had to come up with this keto Cheez-It copycat recipe. And once I figured out how darn easy these low carb cheese crackers are to make, I kicked myself for not coming up with it sooner.
Seriously, I could have saved myself from caving at least a half a dozen times on this journey.
However, now that I'm armed with these delicious low carb Cheez-Its, I'm ready to take the keto world by storm.
What Makes This Keto Cheez-Its Copycat Recipe So Good?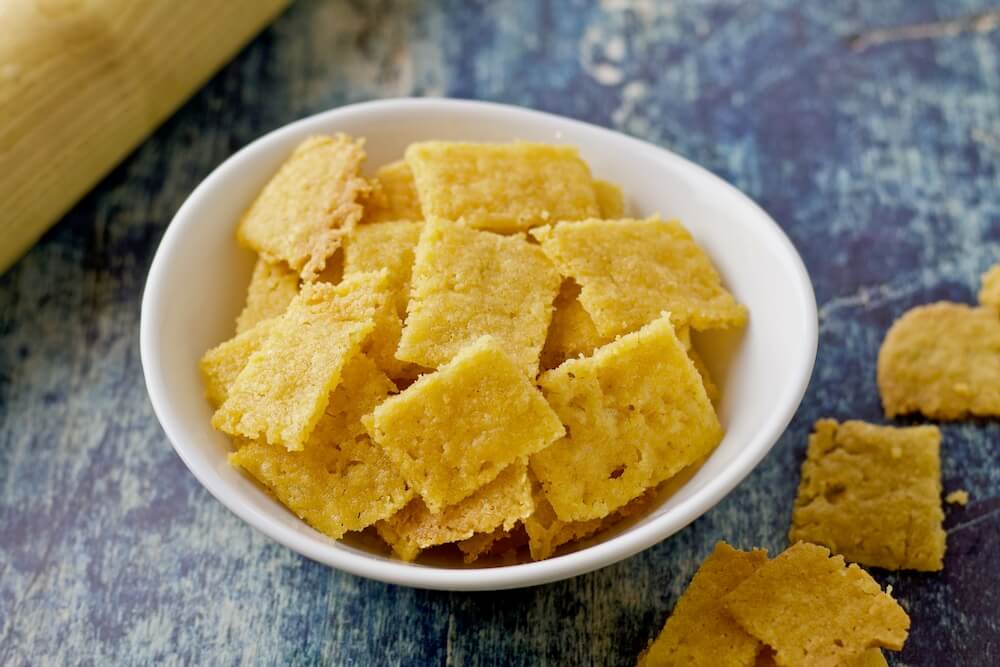 Okay, my intro there may have been a little over the top, but I am on fire for these keto Cheez-Its. This low carb cheese cracker recipe is one of my favorites posted on the website!
But what makes this keto cheez-it copycat recipe so good?
It's the simple ingredients!
We start with sharp cheddar cheese. I used Tillamook sharp cheddar in the red package because, well, it's my favorite cheese on the planet.
Next, we add the butter. We're using half a stick here, so our low carb Cheez-Its turn out nice and crispy.
Most importantly, we swap out the regular flour for almond flour which is the perfect application (almond flour is also a staple in my Keto pancake recipe). The almond flour does a great job of soaking up with fat from the butter and the cheese and gives these keto Cheez-Its that crunchy cracker goodness.
After that, it's just a little salt and my favorite unique ingredient…cayenne pepper!
Super simple but super tasty.
Making Keto Cheez-Its...Easier Than You Think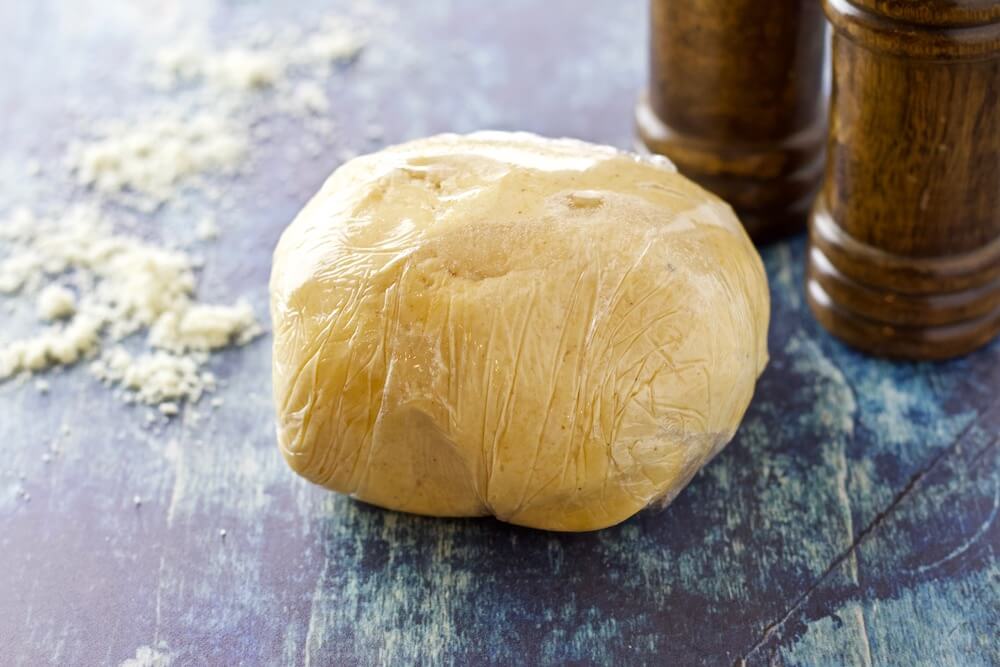 This is one of those super simple "dump all ingredients in the food processor recipes," but there are few pointers I came up with that make the recipe so much easier.
Tip #1 – If you're using a small food processor as I have (I'm using this one), you'll want to do this step in two batches. If you're looking to get a full-sized food processor, I recommend this one. It's the one I wish I had purchased.
Tip # 2 – After blending all of the ingredients, we add a small amount of water to bring the dough together. It's important to use ice water here.
Tip #3 – The recipe calls for us to refrigerate the dough for one hour before working with it. This step is very crucial and an hour is the minimum amount of time needed to chill the dough. If you don't follow this, the mixture will be too hard to work with as we cut it into squares.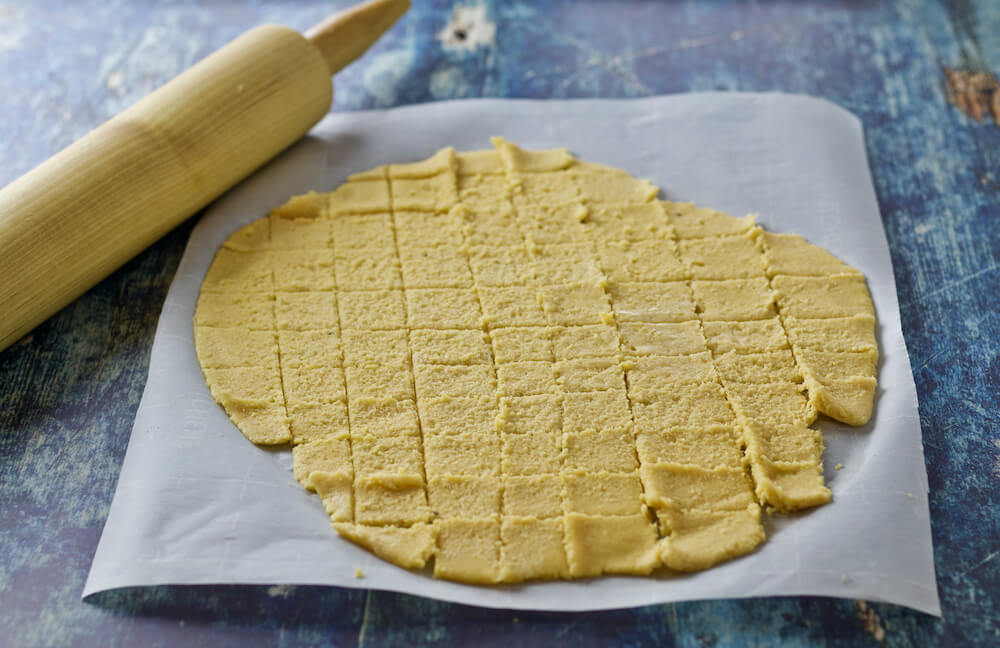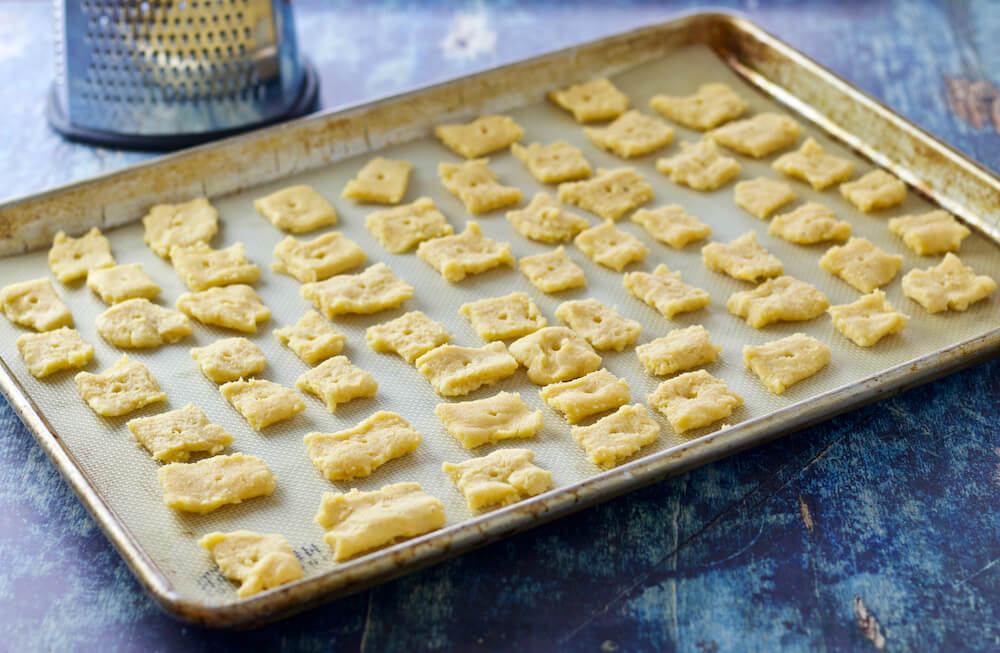 Working With The Keto Cheez-It Dough
After taking the dough ball out of the freezer (make sure it's been at least an hour!), roll the dough between two sheets of parchment paper until it's 1/4 inch thick.
Using a pizza cutter, cut the dough into one-inch squares and transfer the squares to silicone or parchment lined baking sheet.
Finally, we want to poke that little hole in the middle of the keto Cheez-Its. Do this using a wooden skewer or toothpick. This is purely for aesthetic purposes, but it does make them look authentic.
Place the baking sheet into a 350-degree oven for 18 to 25 minutes until the edge pieces become crispy.
Tip – If the crackers melt together while cooking, let them cool for just a minute before using the pizza cutter to re-cut them. Transfer to a paper towel and allow to cool completely and become crispy.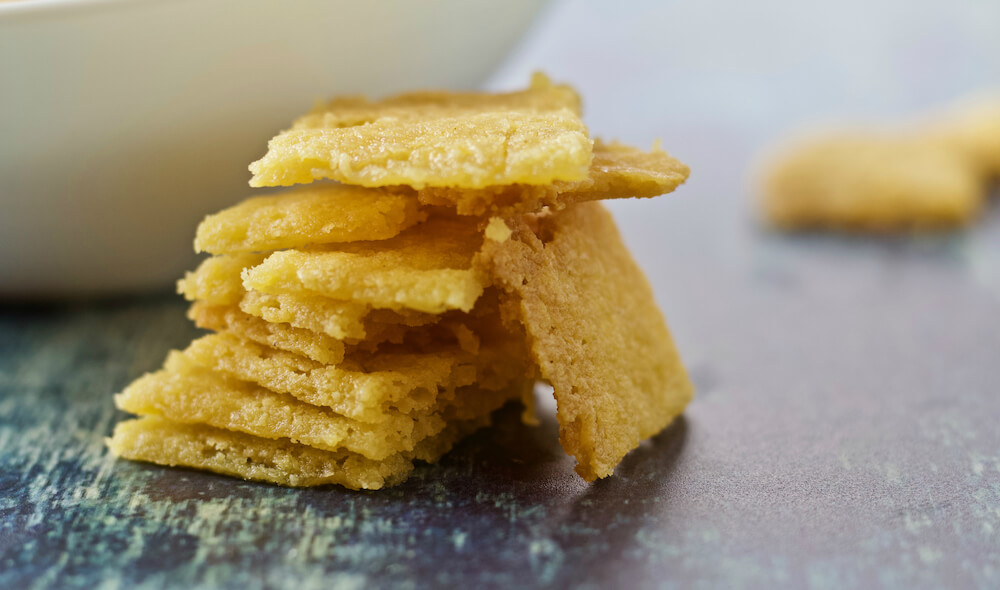 Did you make these Low Carb Keto Cheez-It Crackers? If so, let us know in the comments below. Have a question? Ask in the comments, and we'll reply right away.
And remember, your keto diet should not be boring!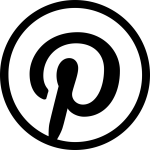 Low Carb Cheese Crackers – Keto Cheez-It Copycat Recipe
Low Carb Cheese Crackers - Keto Cheez-It Copycat Recipe
If you've been on the keto diet for any length of time, you're probably craving the delicious crunch of a cheese cracker. This keto Cheez-It copycat recipe has everything you've been missing...except the carbs.
Instructions
Place the cheese, butter, almond flour, salt, and pepper in a food processor and pulse until the mixture has the texture of sand. (If you have a small food processor, do this in batches.)

Add the ice water and pulse until the dough comes together.

Form into a dough ball, wrap in plastic wrap, and refrigerate for at least 1 hour.

Preheat the oven to 350 degrees F.

Roll out the chilled dough to 1/4-inch thickness between two pieces of parchment paper. Cut dough into 1-inch squares with a pizza cutter. Use a wooden skewer or tooth pick to poke a small hole in the center of each square.

Line a baking sheet with parchment paper or a silicone baking mat. Transfer the squares to the prepared baking sheet and bake until golden brown, about 18 to 25 minutes.

Allow crackers to cool completely before removing crackers from baking sheet.
Notes
If crackers "run together" while baking, use pizza cutter to re-cut crackers upon taking them out of the oven.
Nutrition Information Per Serving
Nutrition Facts
Low Carb Cheese Crackers - Keto Cheez-It Copycat Recipe
Amount Per Serving
Calories 200
Calories from Fat 153
% Daily Value*
Fat 17g26%
Carbohydrates 2g1%
Protein 8g16%
* Percent Daily Values are based on a 2000 calorie diet.