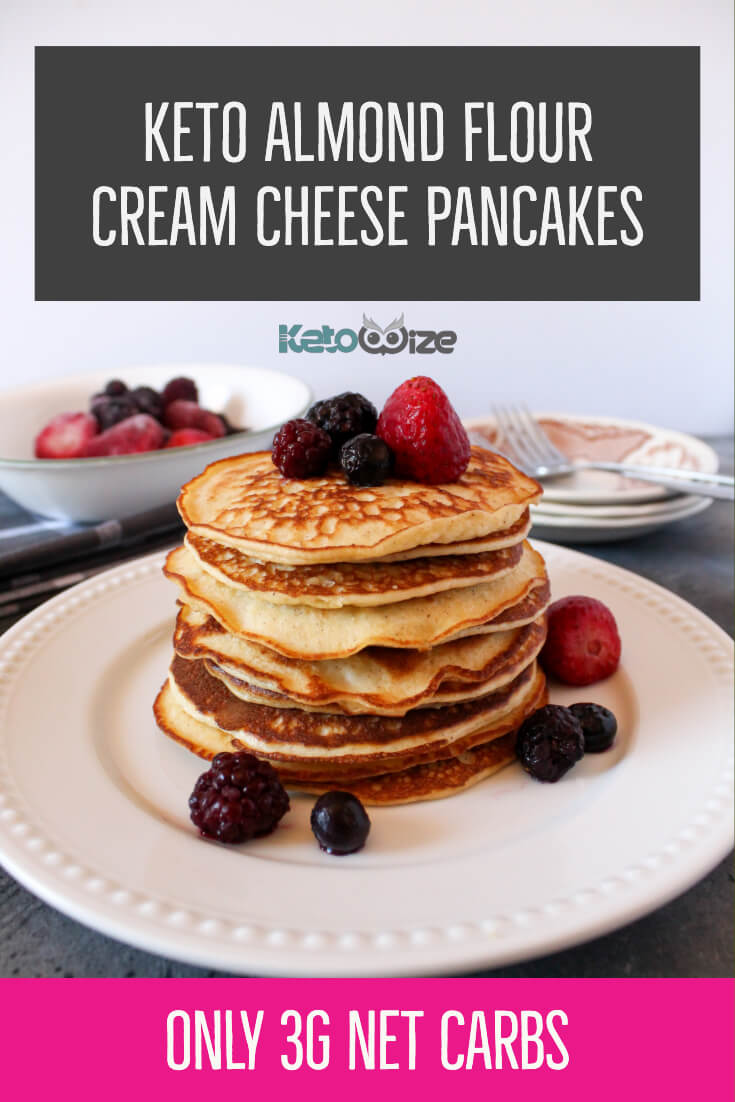 For us, Keto is all about eating great food and seeing the health benefits that accompany high fat and low carb.
That doesn't mean we don't wish for variety.
After a while, eggs can become a real turn-off. Even though there are so many ways to cook eggs.
The key to success is preparation and variety in rotation.
And, to be honest, we LOVE bread, pastries, cookies…yes! CARBOHYDRATES!
But, the thing that has been really liberating with Keto is that you can still have breads, cookies, and even pancakes. You just need new recipes. And, that's where we come in with these ultra-delicious Keto almond flour pancakes.
Keto Almond Flour Pancakes - Your New Favorite Breakfast
Not everyone in our house is a breakfast eater. But for those who do eat breakfast, variety is key.
Plus, who says you can't have breakfast for dinner. These Keto Almond Flour Pancakes are just the ticket.
Looking for a decadent breakfast item that won't spoil your Keto progress? Look no further. Making these almond flour pancakes from scratch is easy, and they taste like something that should be on a high-end cafe menu.
Trust me! This recipe will give you a reason to wake up in the morning.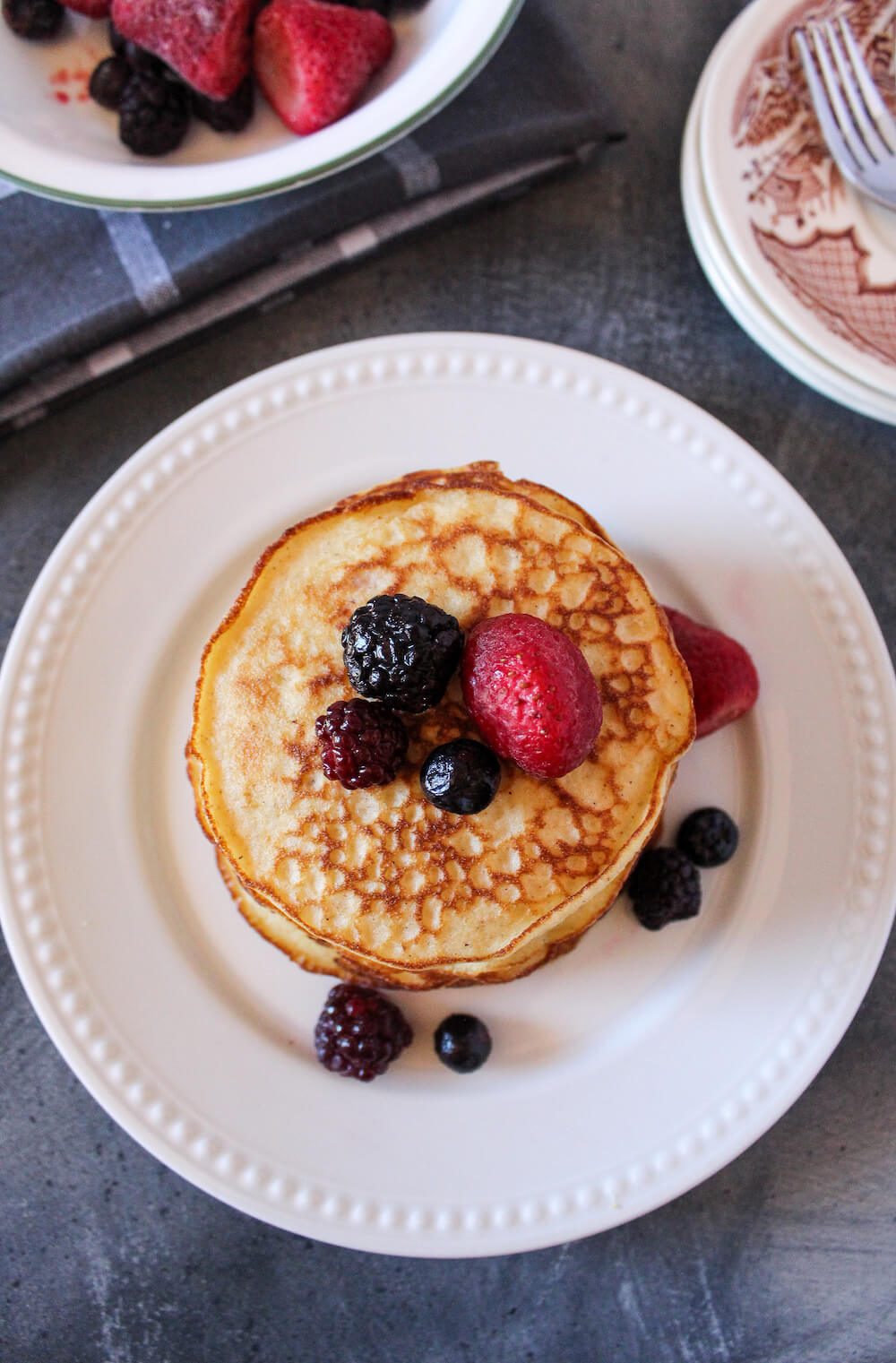 Ingredients In Our Quick and Easy Keto Almond Flour Pancakes
Just as the name implies, Easy Keto Almond Flour Pancakes are simple to make. I actually adapted this recipe from an Atkins pancake recipe I found years ago.
Yes, the main ingredient is Almond Flour (which really is simply ground up almonds or almond meal). This wheat flour substitute is a Keto staple and should be one of the things you keep on hand, as you will see it regularly used in many recipes.
At only 2 grams of net carbs per 1/4 cup, the switch is a no brainer. Regular wheat-based flour is just not an option for Keto. Plus, Almond Flour is also gluten-free, so for those with gluten sensitivity, it's a win all the way around.
We use this Almond Flour and have been pleased with the results, every time.
NOTE: Remember, these pancakes don't have any baking powder. That's okay, because they are so filling and delicious. If you are wanting to make more fluffy almond flour pancakes, you could try adding a bit of baking powder to the mix without changing the macros.
How To Make Keto Almond Flour Pancakes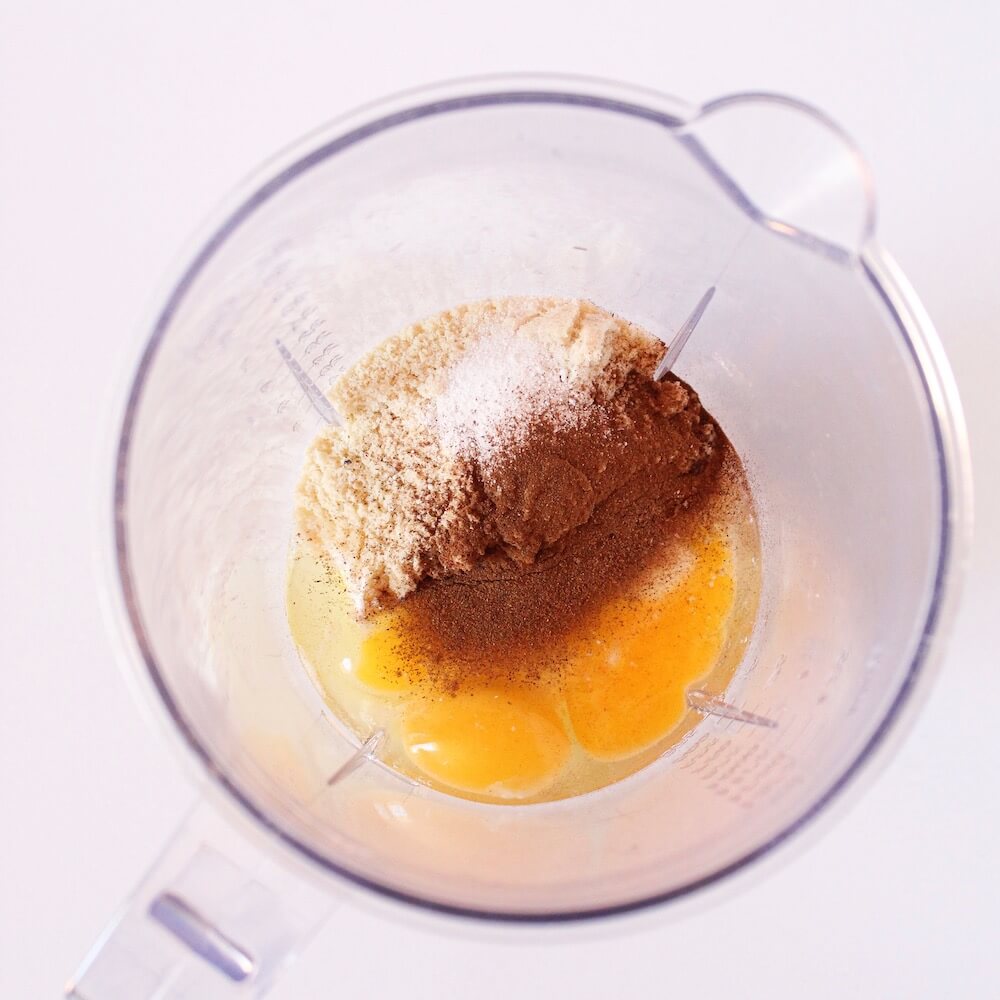 Literally, this recipe is throw everything in a blender and mix until combined.
EASY Peasy lemon squeezy.
Some things to think about though…the order that you add ingredients to the blender does matter.
Add liquids first, then powders, and solids (cream cheese last). The reason for this is because your almond flour and cream cheese can get gummed up under the blender blades.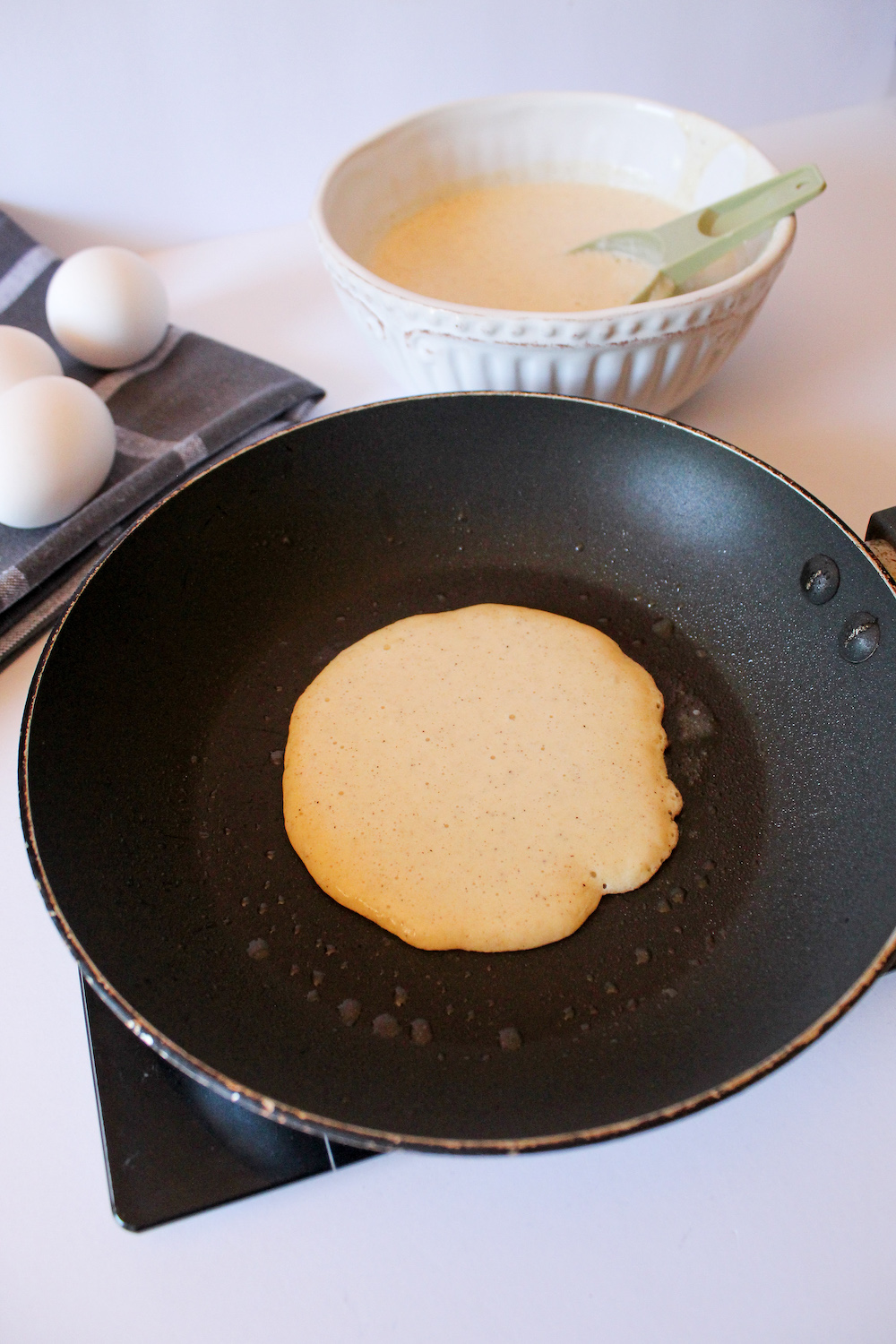 The other thing to note is that what seems like a small amount of batter, really does produce quite a few of these tasty cream cheese pancakes.
You may be tempted to adjust ingredients because it looks like there isn't very much.
This recipe really does yield 8 pancakes, or 4 servings of 2 pancakes each. And being so high in fat, they are very filling.
Finally, while your pancakes are cooking, be sure not to flip them too early. They are delicate and need time, in order to make it through the flipping process.
You'll quickly get the hang of it and will soon be making Keto Almond Flour Pancakes like a pro.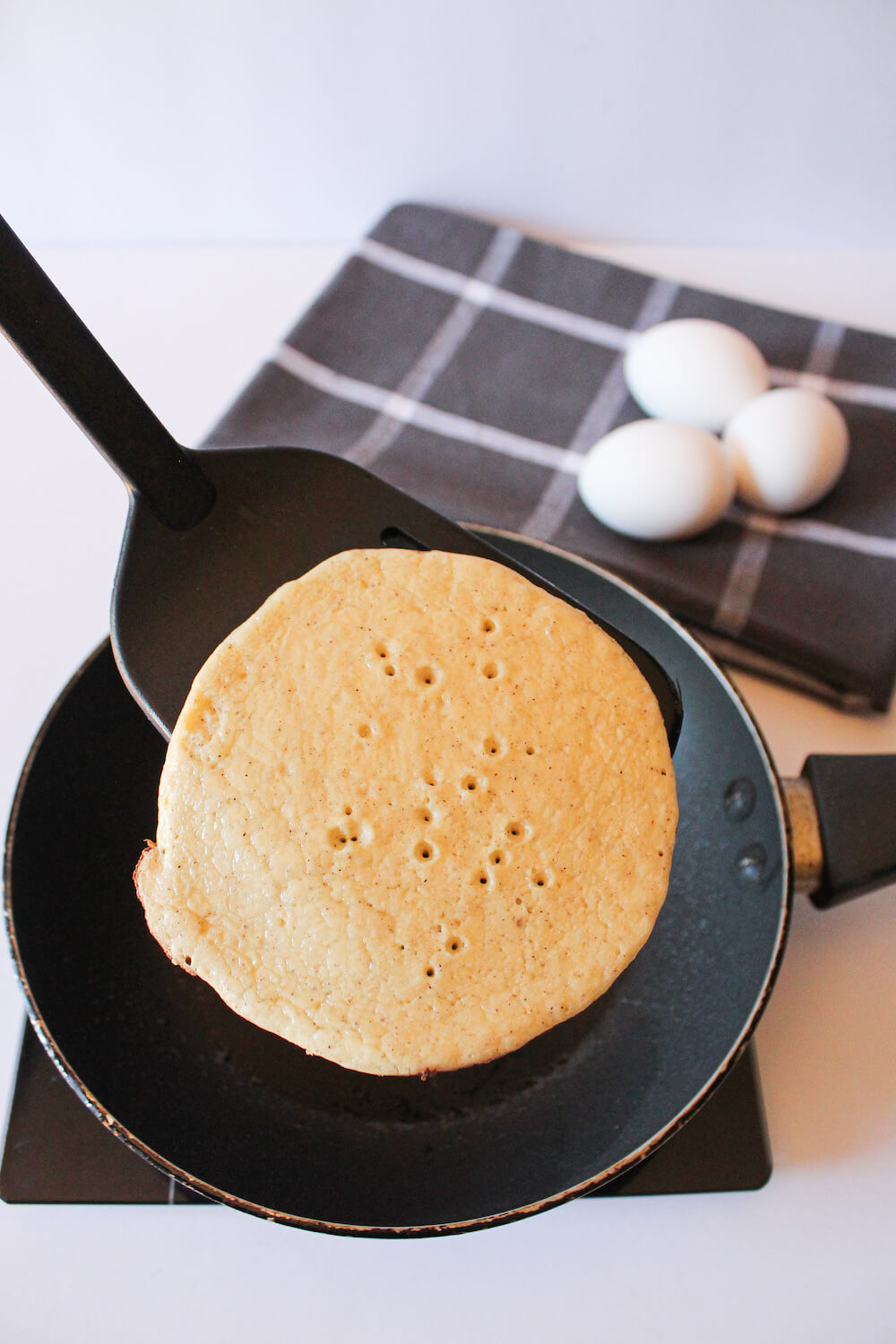 Topping Ideas For Keto Almond Flour Pancakes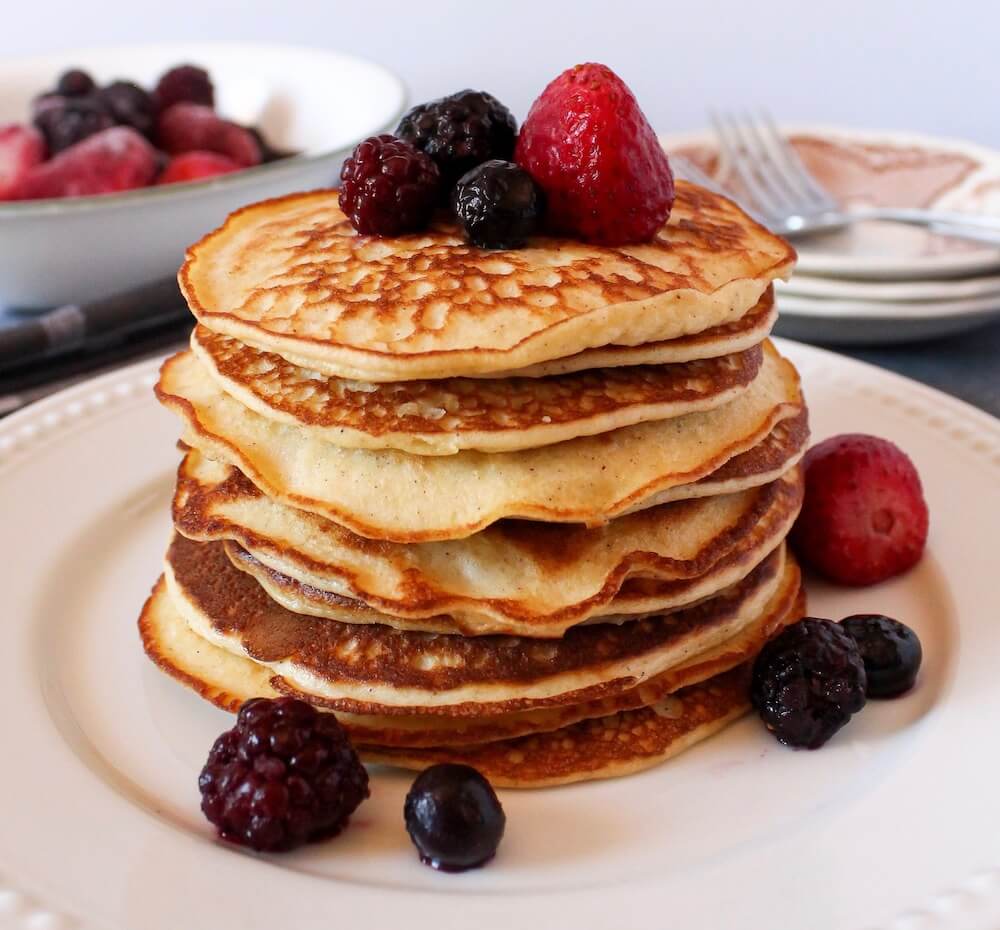 Remember how I mentioned before that we love breakfast for dinner…that's because you can serve something like Keto pancakes and provide a variety of toppings to please everyone at the table. Check out these delicious options:
Sugar-Free Maple Syrup – This is an easy, no fuss option for pancakes any time.
Sugar-Free Lemon Curd – We use this recipe. It is AMAZING and keeps in the fridge for a couple of weeks.
Fresh Berries with homemade Whipped Cream – A few berries are a Keto-friendly option and look wonderful too. For the whipped cream, consider adding a dispenser to your tool kit. That way, you can get just the right sweetness. Plus, these are such a fun toy to whip out at a party.
Extra Butter with Shredded Coconut and Macadamia Nuts – This is a throwback to a trip we took to Hawaii. Eating Keto should be adventurous and full of variety.
Meal Prep Ideas: Storing Keto Almond Flour Pancakes
There are many reasons to choose a Keto lifestyle. Whether it's weight loss, allergies, diabetes, or some other misalignment you're trying to work out. If you are Keto then one thing is for sure, you have made a commitment.
The best way to keep your commitment to this journey is preparation. That means having food prepped and ready, before hungry turns to hangry (so hungry that you're angry).
And, having great recipes like our Easy Keto Almond Flour Pancakes on hand should do the trick.
If you are making these for a meal to share, then just serve hot out of the skillet immediately.
But, these Keto pancakes work great for meal preps. These will store in an airtight container for up to a week. Portion out 2 pancakes into each container and then just grab and go. Microwave, top, and enjoy!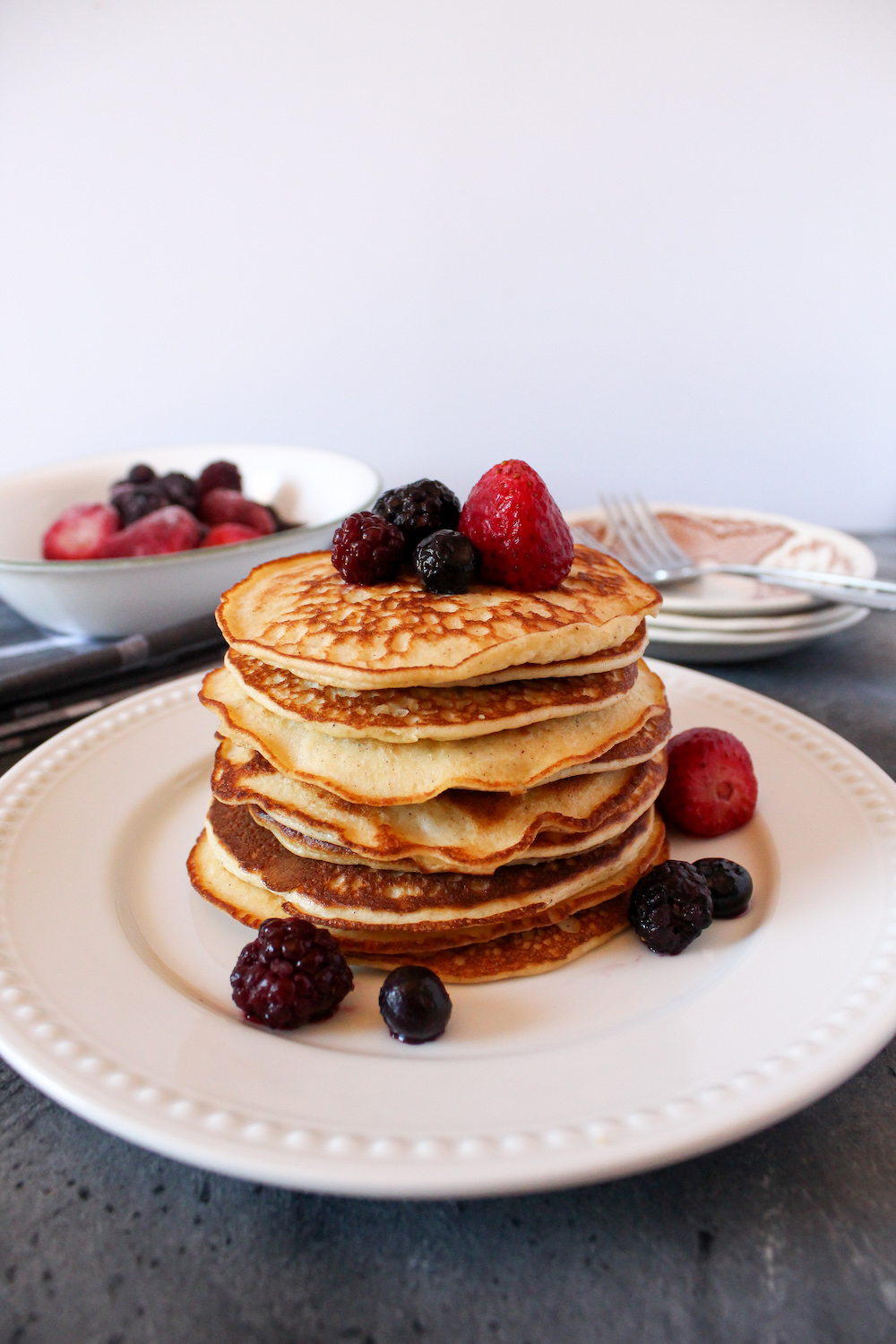 Did you make this Keto Almond Flour Cream Cheese Pancake recipe? If so, let us know in the comments below. Have a question? Ask in the comments and we'll reply right away.
Looking for some more Keto breakfast ideas? We've put together a list of our favorites from around the web. Be sure to check it out!
And remember, your keto diet should not be boring!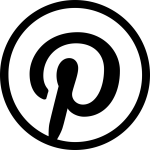 Keto Almond Flour Cream Cheese Pancake Recipe – Quick and Easy
Keto Almond Flour Cream Cheese Pancake Recipe - Quick and Easy
These keto almond flour pancakes are the best we've ever made. With a few simple additions, we elevate these low carb pancakes to another level. So much so, we love them more than traditional pancakes.
Instructions
Add all ingredients (except butter) to blender and mix.

Heat frying pan over medium heat.

Add 1/4 of the butter to coat the bottom of the pan. (Add more butter after frying 2 pancakes. Continue adding butter after every 2 pancakes until batter is gone.)

Pour 1/8 of batter (scant 1/4 cup) into the pan.

Fry pancakes in melted butter in a non-stick pan over medium heat. Turn over once the middle begins to bubble.
Notes
Pancakes should be 4-5 inches in diameter. Serve immediately or store refrigerated in an airtight container for up to one week.

After pouring batter into the pan, lift the pan and tilt with a swirling motion to spread the batter until desired pancake size is reached.

Be careful not to flip the pancakes too early, they need time to set up while cooking.

Serve with sugar-free syrup or, even better, sugar-free lemon curd.
Nutrition Information Per Serving
Nutrition Facts
Keto Almond Flour Cream Cheese Pancake Recipe - Quick and Easy
Amount Per Serving (2 pancakes)
Calories 295
Calories from Fat 243
% Daily Value*
Fat 27g42%
Carbohydrates 5g2%
Protein 10g20%
* Percent Daily Values are based on a 2000 calorie diet.