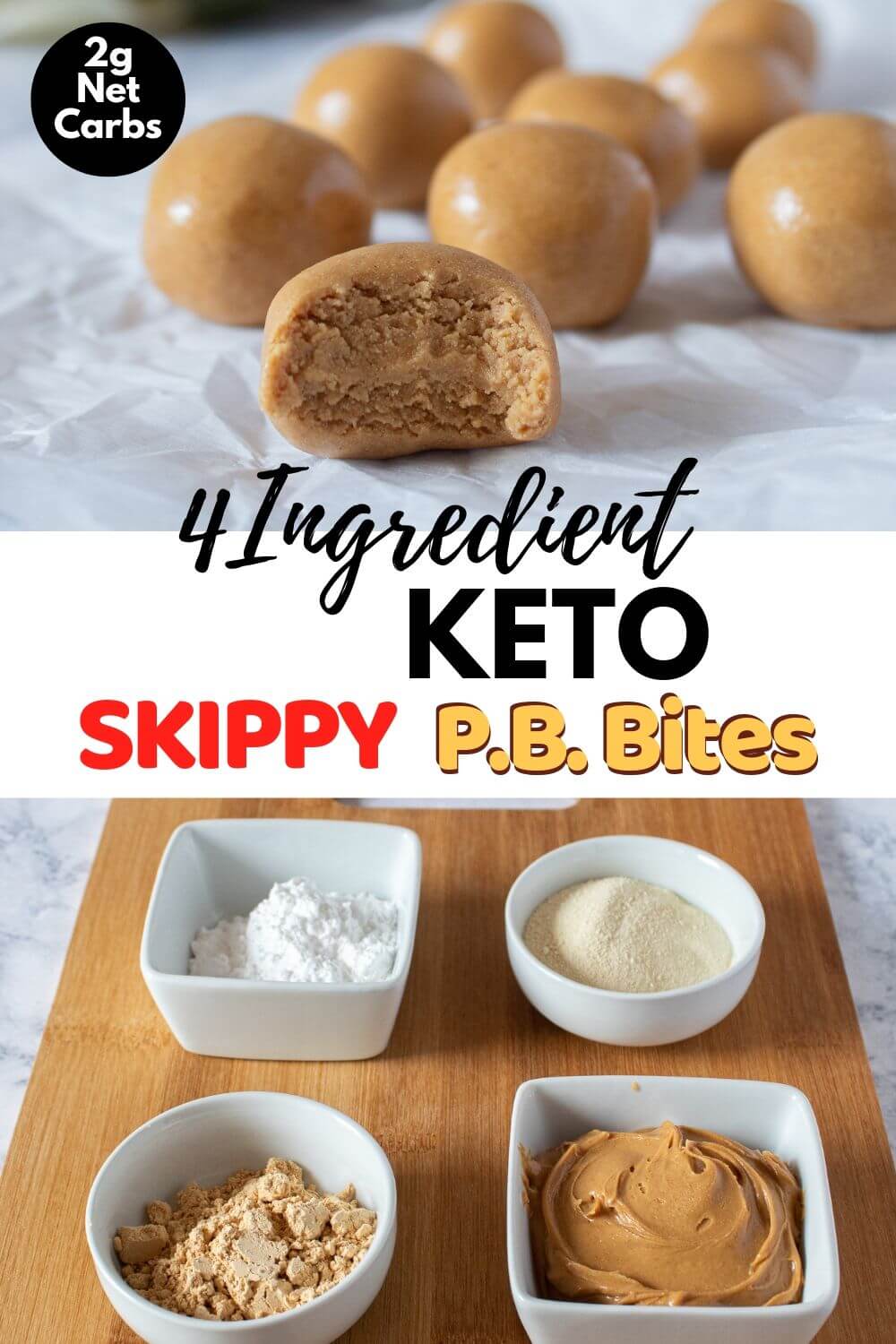 I was recently in my local Fred Meyer grocery store when I came across something I had never seen before. Right there next to the peanut butter and jelly was something that made me very curious: Skippy P.B. Bites (I'm not linking them here cause I don't want you guys to buy them…like I did!).
Now, I don't normally do a lot of shopping in the center of the grocery store since that is where most of the processed foods are kept, and that's the stuff I've totally been avoiding since adopting the Keto lifestyle. But I was there for some natural peanut butter and these P.B Bites were right there, just staring at me!
I knew they couldn't be healthy (nothing that sits on the shelves for weeks or months can be too good for you), but these things were really bad. Not necessarily the macros, but the ingredients. I counted over two dozen ingredients – most of which I couldn't even pronounce.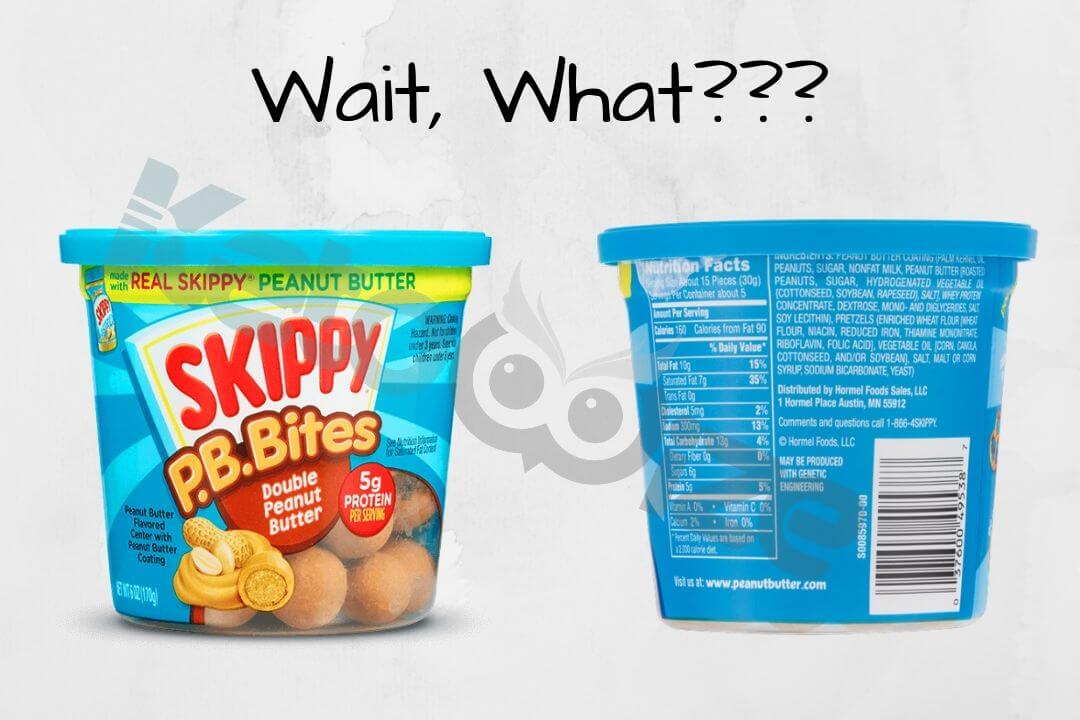 But (and I'm going to be completely honest here), I bought them anyway.
I'd like to say it was for science but I'd just be lying to you. You see, peanut butter is my weakness, and these things were like a siren call to my inner junk food addict.
Sure, they tasted delicious but they certainly kicked me out of ketosis. NOT GOOD!
So, I did what I always do. I figured out a way to make a healthy and keto-friendly copycat version of this tasty treat.
Keto Skippy PB Bites Recipe - Super Easy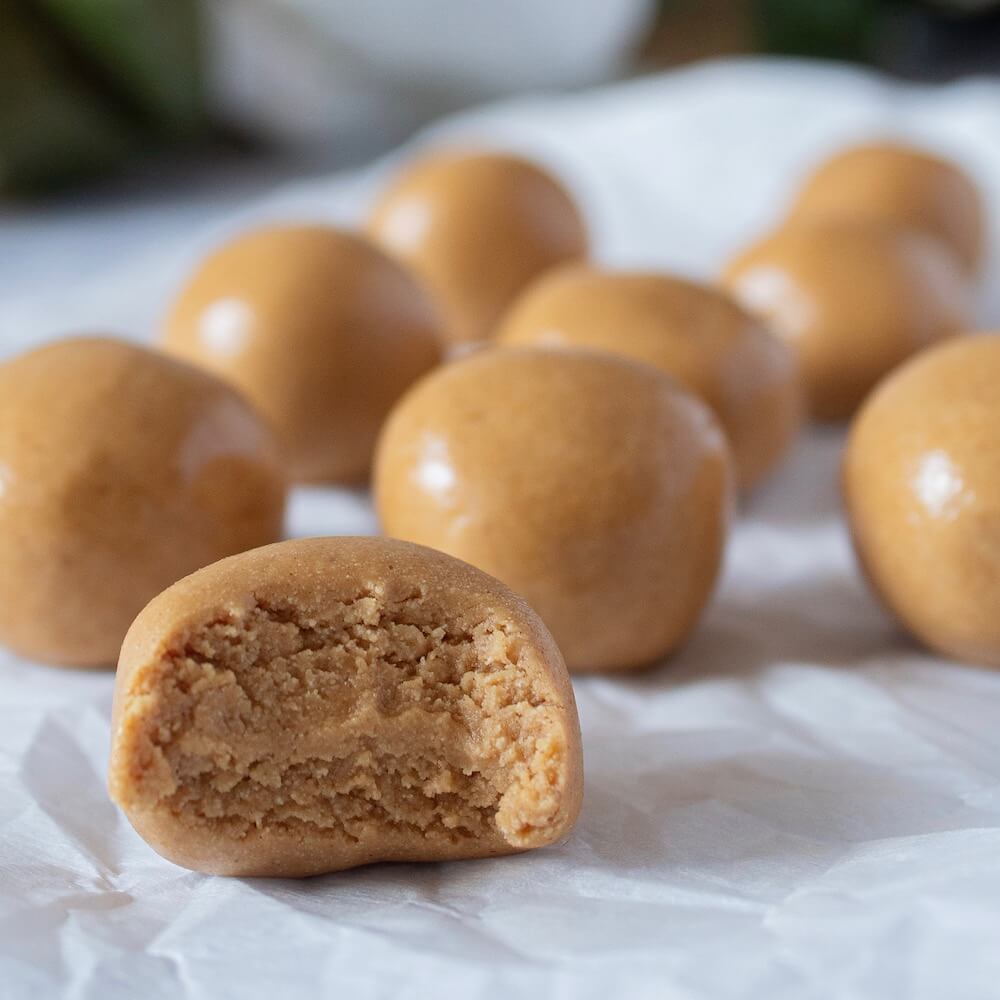 Call me crazy, but I love a challenging and difficult recipe. It makes me feel like a real chef.
But when it's a weekday evening and I've been slaving away on this blog since the wee hours of the morning, I don't have the time or the energy to whip up anything too complicated.
Seriously, the mental energy is just not there.
That's why I love these Keto Skippy P.B. bites. They're super easy to prepare. Or as my kids would say, "stupid simple!"
4-Ingredient Keto P.B. Bites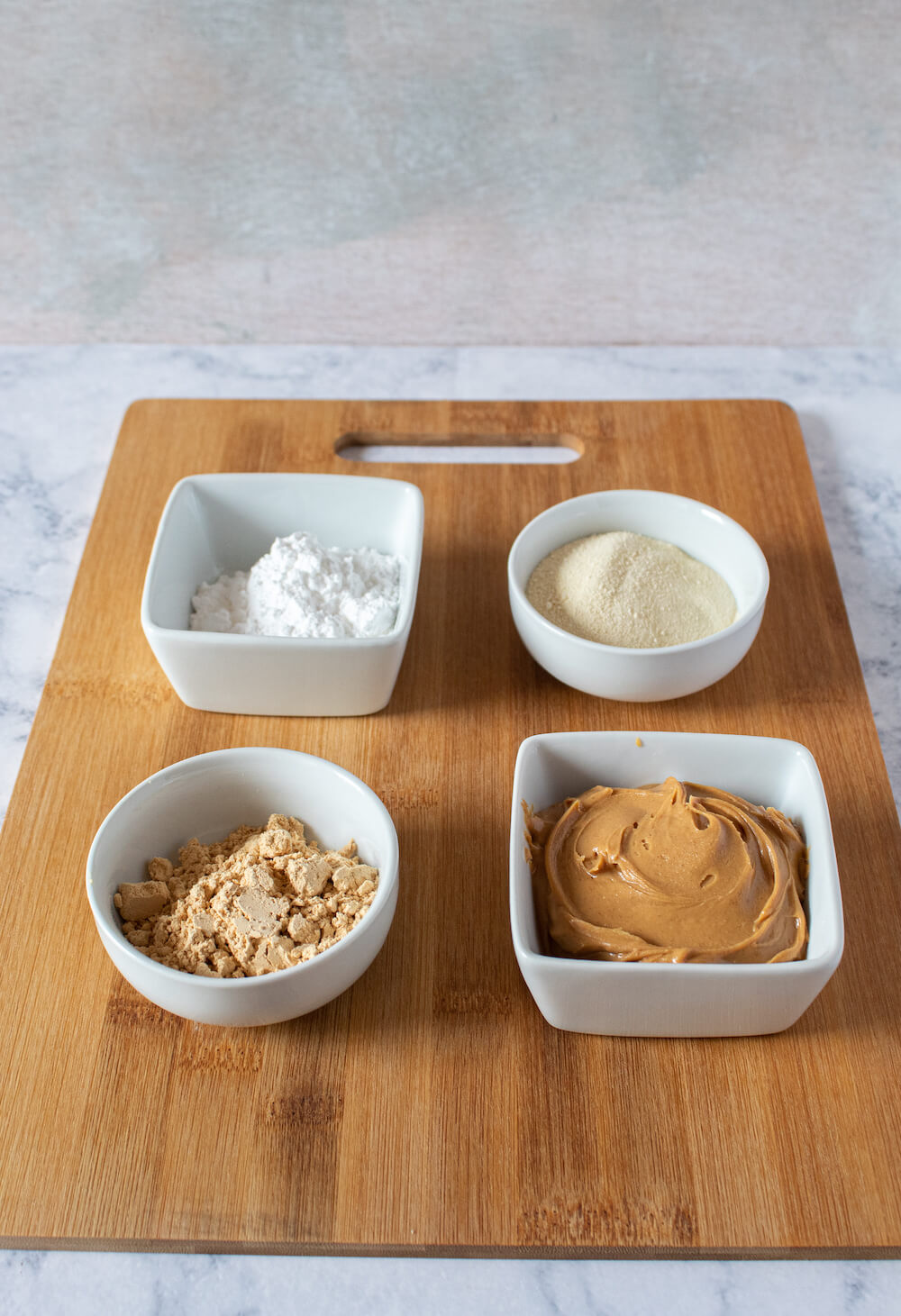 I absolutely love that peanut butter is not only allowed on the Keto diet, but actually encouraged. I honestly don't think I would have ever stuck to the Keto lifestyle had it not been for good ol' PB.
But, if you look at the nutrition info for the real Skippy P.B. Bites, you'll see that they contain 13 grams of carbs and have about 20-plus ingredients, most of which I can't pronounce.
The great thing about this low carb P.B. bites recipe is that it only contains two grams of carbs and is made up of only four ingredients. How's that for you?
My Keto P.B. Bites recipe uses Powdered Swerve to achieve the sweetness of the real thing while keeping this copycat treat totally low-carb.
I like to use the powdered version, as opposed to the granulated, because you end up with a much more authentic texture to the original Double Peanut Butter Bites from Skippy.
PRO TIP: If you are looking for a milder taste, try substituting Almond Butter for the Natural Peanut Butter.
How To Make Keto Skippy P.B. Bites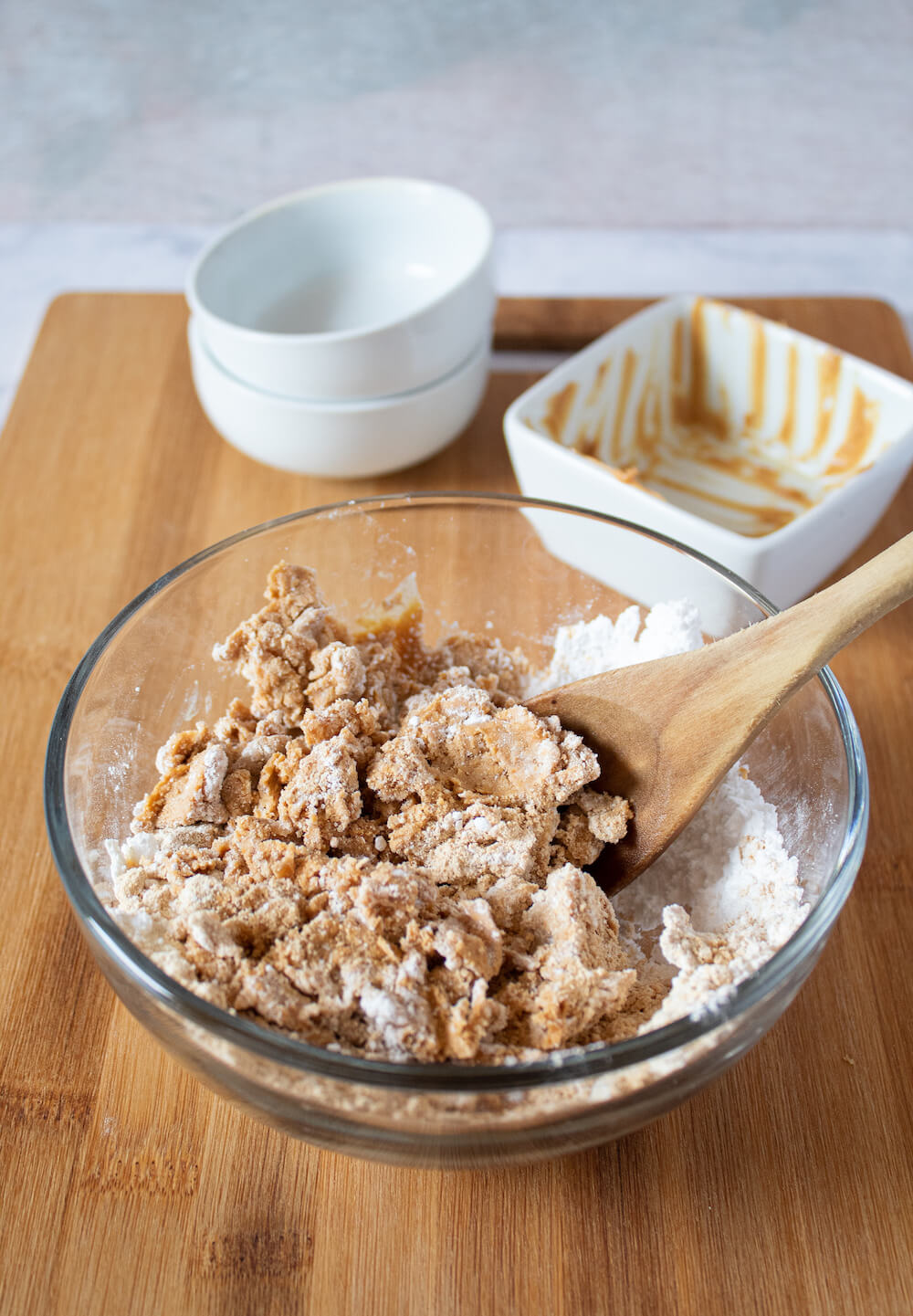 Do you believe me that you can actually make copycat Skippy P.B. bites that are actually Keto? It's true.
For this recipe, we mix up all for ingredients in a large mixing bowl using a wooden spoon or spatula.
Once you've incorporated the ingredients together with the spoon, it's time to get in there with your hands.
Work the dough with both hands until it's thoroughly mixed.
Roll the dough into a log and then cut into 24 equal sized pieces. Then roll each piece into a nice uniform ball and place the balls on a cookie sheet.
Freeze the balls for about 30 minutes. This helps them hold together and gives them the texture of the original P.B. bites you buy at the store.
But feel free to eat a couple of them before popping them in the freezer. I always do.
PRO TIP 2: If you want to take this Keto P.B. Bites recipe up another notch, try dipping them in melted sugar-free chocolate chips before popping them in the freezer.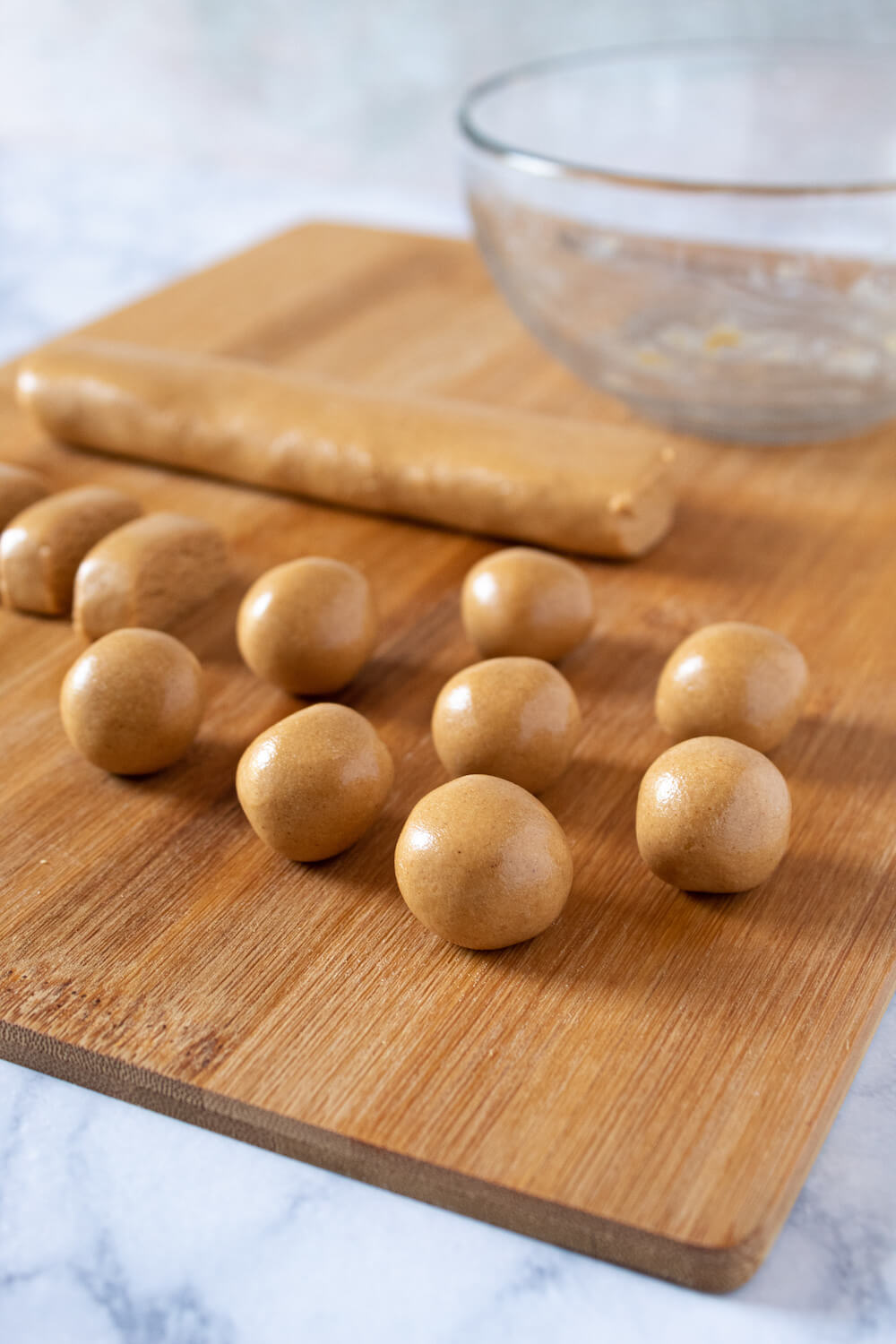 Can You Make Sugar-Free P.B. Bites Ahead of Time?
You bet you can! That's one of the great things about this Keto P.B. bites recipe.
What I like to do is make a big batch of these delicious goodies on a Sunday afternoon and then snack on them throughout the week.
If storing your low carb Skippy P.B. Bites for easy low carb snacking, I recommend a good airtight container. This will ensure these Keto treats taste as good as the day you made them. Even several days later.
If you want to store them longer than a few days, pop the container in the refrigerator and then throw a few in a Zip-Lock baggie before you head out the door for work.
And if you want to make a larger batch, you can freeze them for weeks or even months at a time.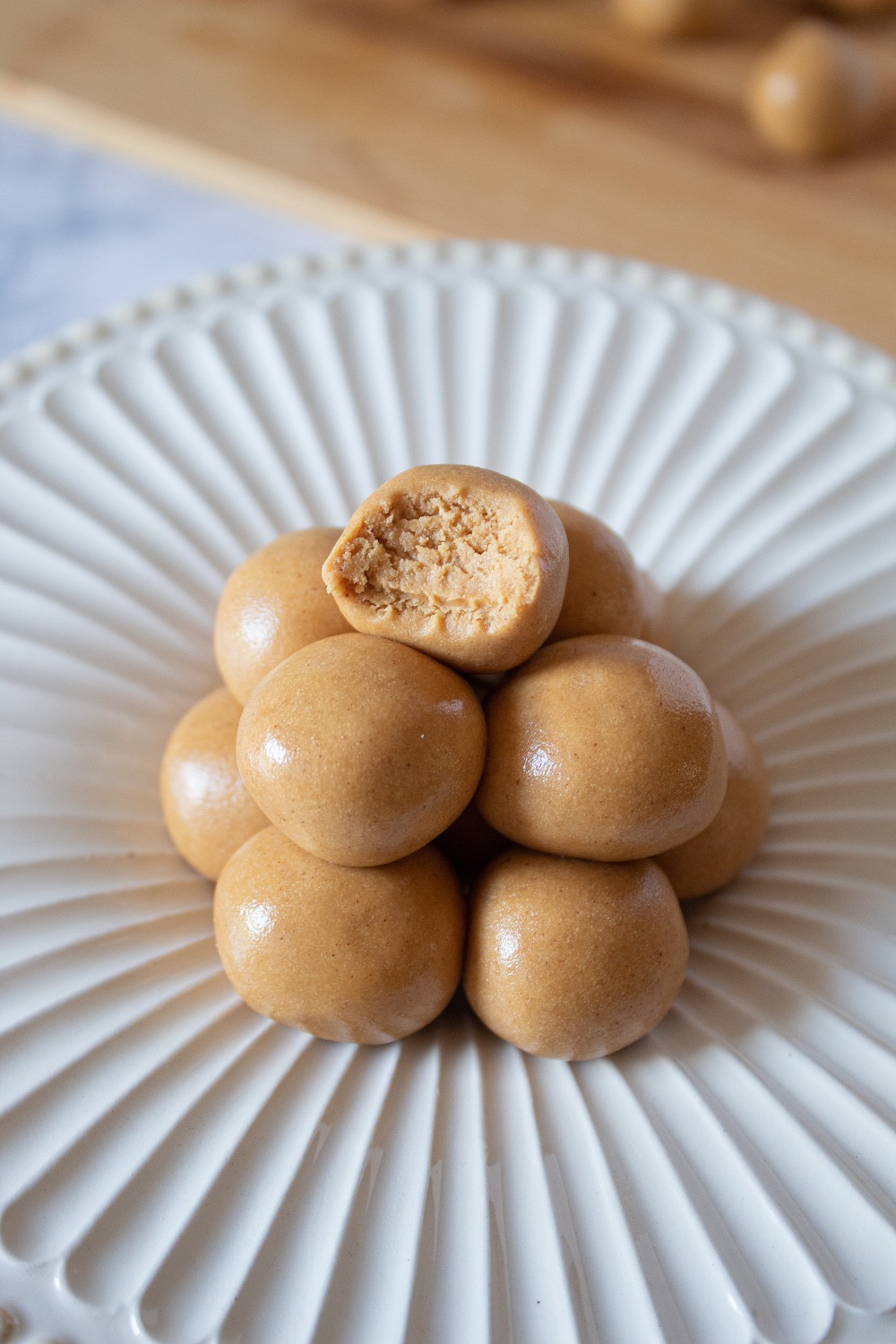 Can You Freeze Low Carb P.B. Bites?
Abolutely! In fact, freezing is part of the recipe as it helps firm up the texture of the P.B. bites.
Since these are low-carb and Keto-friendly, and don't contain all of the preservative and artificial ingredients of the Skippy version, freezing is a necessary step.
The best way to freeze them to avoid having them stick together is to arrange them on a cookie sheet and place it in the freezer for a few hours until the Keto P.B. bites are nice and solid. Then transfer them to a gallon Zip-Lock freezer bag.
When you're ready to eat them, grab a few out of the freezer and allow them to sit at room temperature for 30-60 minutes and then enjoy.
These low carb Skippy P.B. Bites will last in the freezer for one to two months. That is, if you forget they're there. Otherwise, they'll be gone in a few days.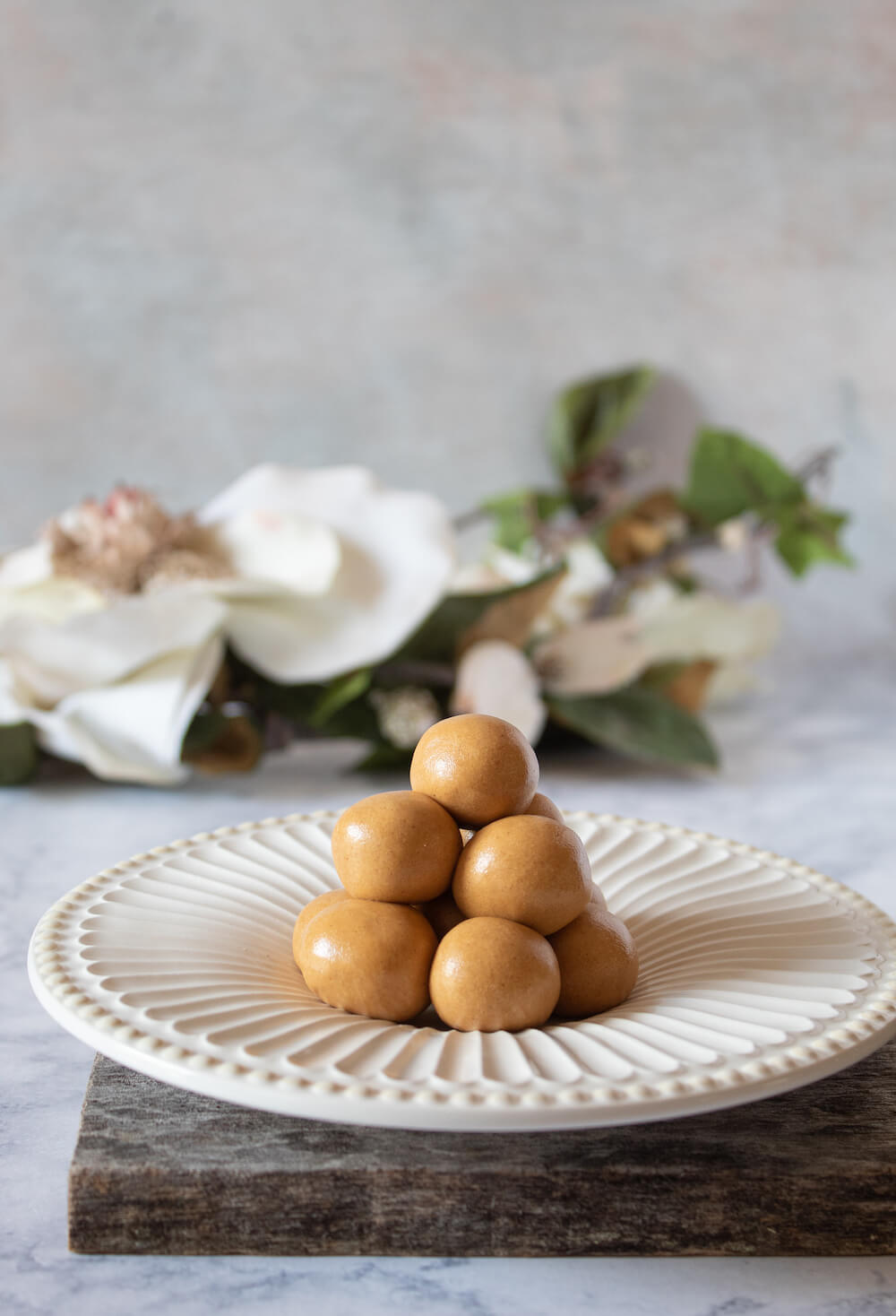 Did you make these Keto Skippy PB Bites? If so, let us know in the comments below. Have a question? Ask in the comments and we'll reply right away.
And remember, your keto diet should not be boring!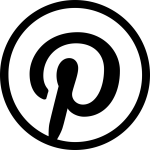 How To Make Keto Skippy P.B. Bites – Easy Copycat Recipe
Keto Skippy P.B. Bites - Easy Copycat Recipe
Small in size but huge in taste, these Keto Skippy P.B. Bites will keep you from falling off the wagon and binging on non-Keto sweets. And with only 4 ingredients, they are super easy to make.
Instructions
Mix all ingredients together in a mixing bowl using a wooden spoon or spatula. Once initial mixing is done, use your hands to finish the process, kneading the dough together until thoroughly mixed.

Roll the dough into 24 even balls using your hands (About 1/2 to 3/4 inch in size).

Freeze until set (about 30 Minutes).
Notes
Serving size is 2 P.B. Bites. Recipe makes 12 servings of 2 P.B. Bites each.

Eat frozen or allow to thaw briefly, if you prefer a softer P.B. Bite.

For a milder taste, substitute Almond Butter in place of Peanut Butter.
For a chocolate peanut butter flare, dip Keto Skippy P.B. Bites in melted Sugar Free Chocolate Chips or roll in Cocoa Powder.
Nutrition Information Per Serving
Nutrition Facts
Keto Skippy P.B. Bites - Easy Copycat Recipe
Amount Per Serving (2 P.B. Bites)
Calories 92
Calories from Fat 54
% Daily Value*
Fat 6g9%
Carbohydrates 4g1%
Protein 7g14%
* Percent Daily Values are based on a 2000 calorie diet.