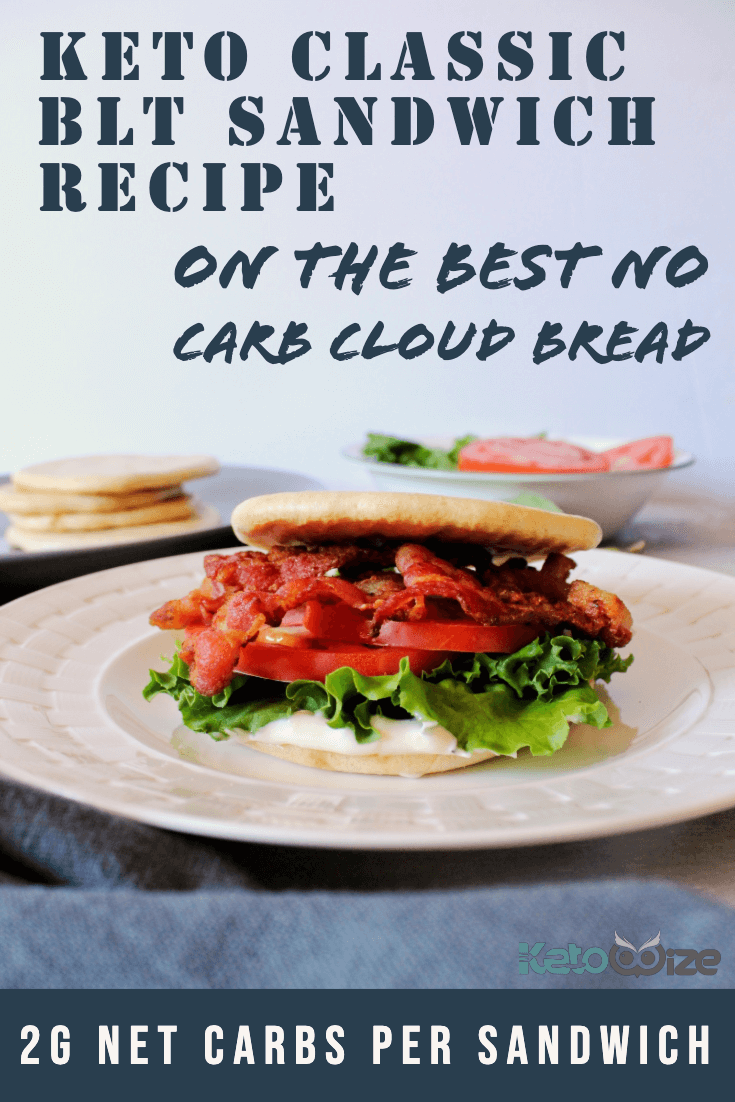 Heading into summer, the conversation in our house becomes all about what we will eat.
Let's face it. We are always talking about what we're going to eat next. That's what good foodies do, right?
And, here are the criteria for summer food in our household (unspoken though they may be).
The food must be a crowd pleaser!
Not too involved as far as prep goes. We want to be able to enjoy our time with family and friends, not slaving the day away in the kitchen. In fact, if we can prepare most of it in advance, that's even better.
When it comes to summer with friends and family, we want Americana Comfort Food.
And, of course, in our house (and probably yours too), it must be Keto.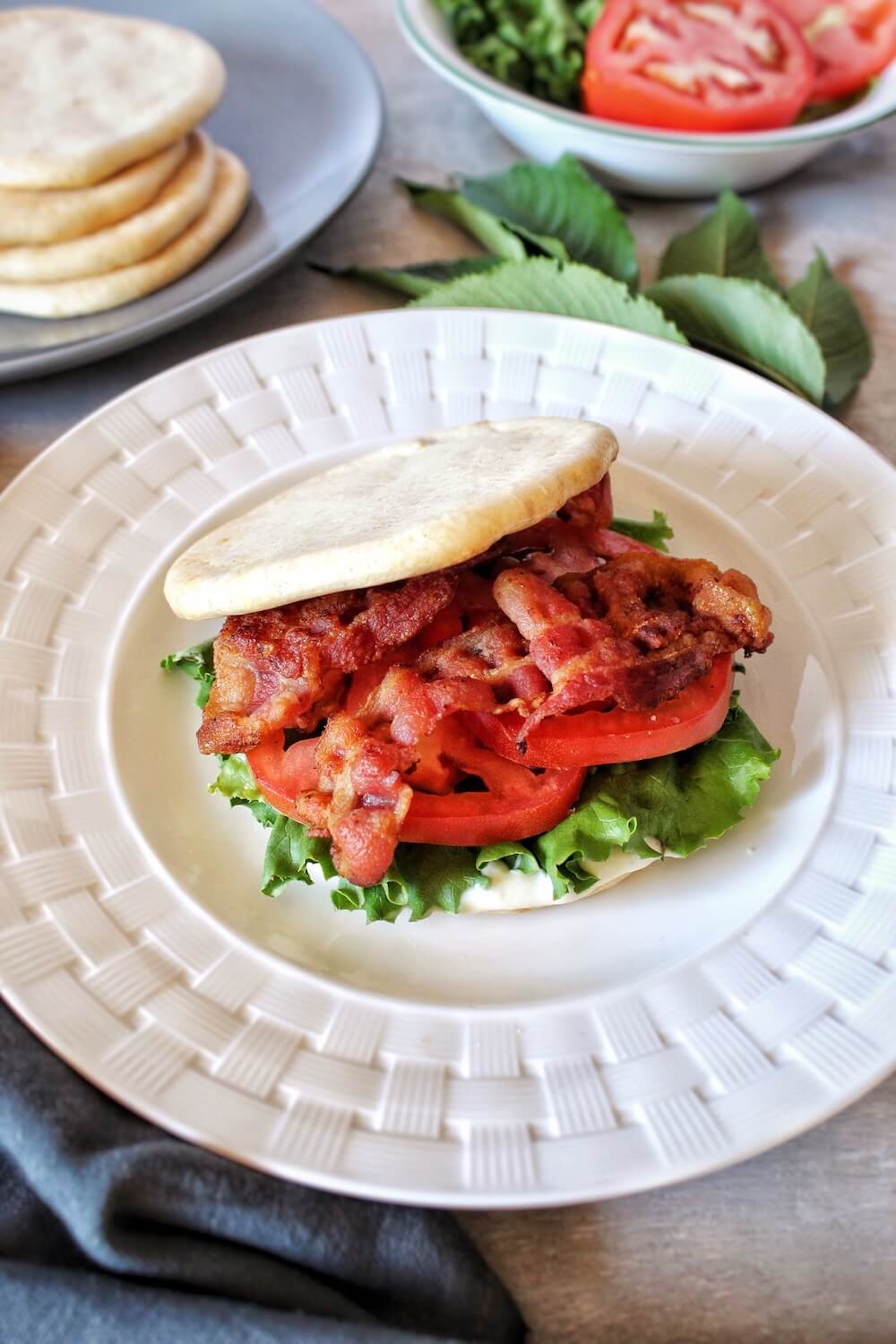 Keto Classic BLT Sandwich: Perfect for Breakfast, Lunch, or Dinner
Enter the Keto Classic BLT Sandwich. Nothing is more satisfying than a BLT made with love–that's our secret ingredient.
This sandwich checks all the boxes and can be served any time of the day. There's something about the combination of sweet acidic tomatoes and salty smoky bacon, with crunchy lettuce for texture that makes you start to salivate just thinking about our Keto Classic BLT Sandwich.
If this sandwich doesn't make sense for breakfast (some crazy people swear a BLT sandwich is solely a lunch food), then top it with a fried egg, let the richness of the yolk run out, and you'll be a convert for sure.
How To Cook Bacon For A Keto BLT Sandwich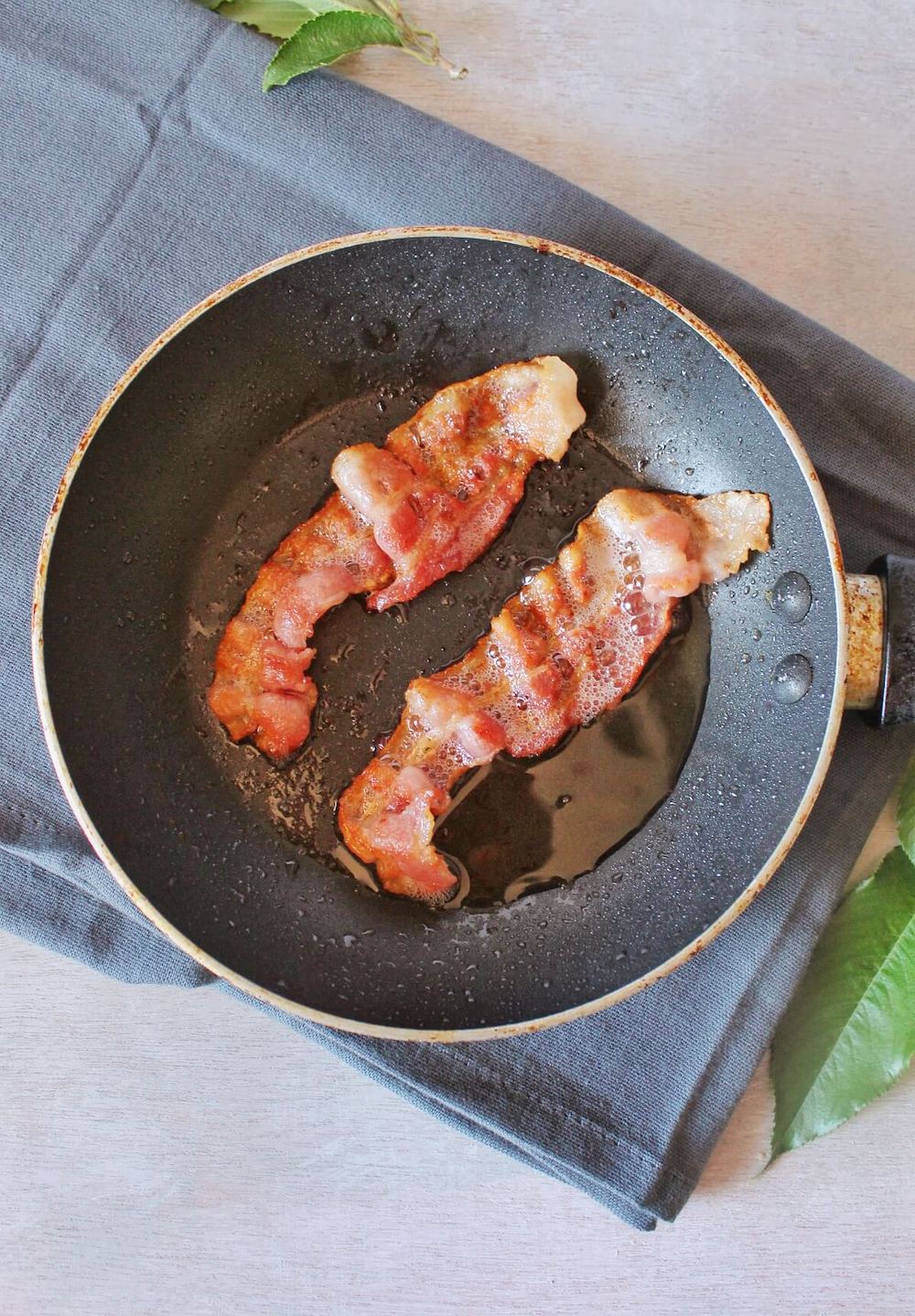 The key to the perfect Keto Classic BLT lies in the love that you put into building it. First and foremost, cooking the bacon properly is key here. There are many ways to cook bacon. We prefer either of the following.
Fry your bacon by first bringing it to room temperature and then placing in a skillet that is NOT preheated. Next, cook over medium heat, turning as needed until reaching desired level of crispness (8-12 minutes). Remove from pan and drain on paper towels.
For larger crowds (or when your kids are like locusts) you can cook bacon in the oven. There are many advantages to this method. Less splatter and less active attention required during cooking. Use a baking sheet lined with foil or parchment paper. Preheat the oven to 400 degrees and bake until desired crispness is achieved (15-25 minutes). Remove from pan and drain on paper towels.
Make sure to save the bacon grease (a.k.a Keto Essential Oils). You can pour it into a canning jar or even purchase a cute little bacon grease container. Remember, the great thing about Keto is that FAT is now an essential part of your diet.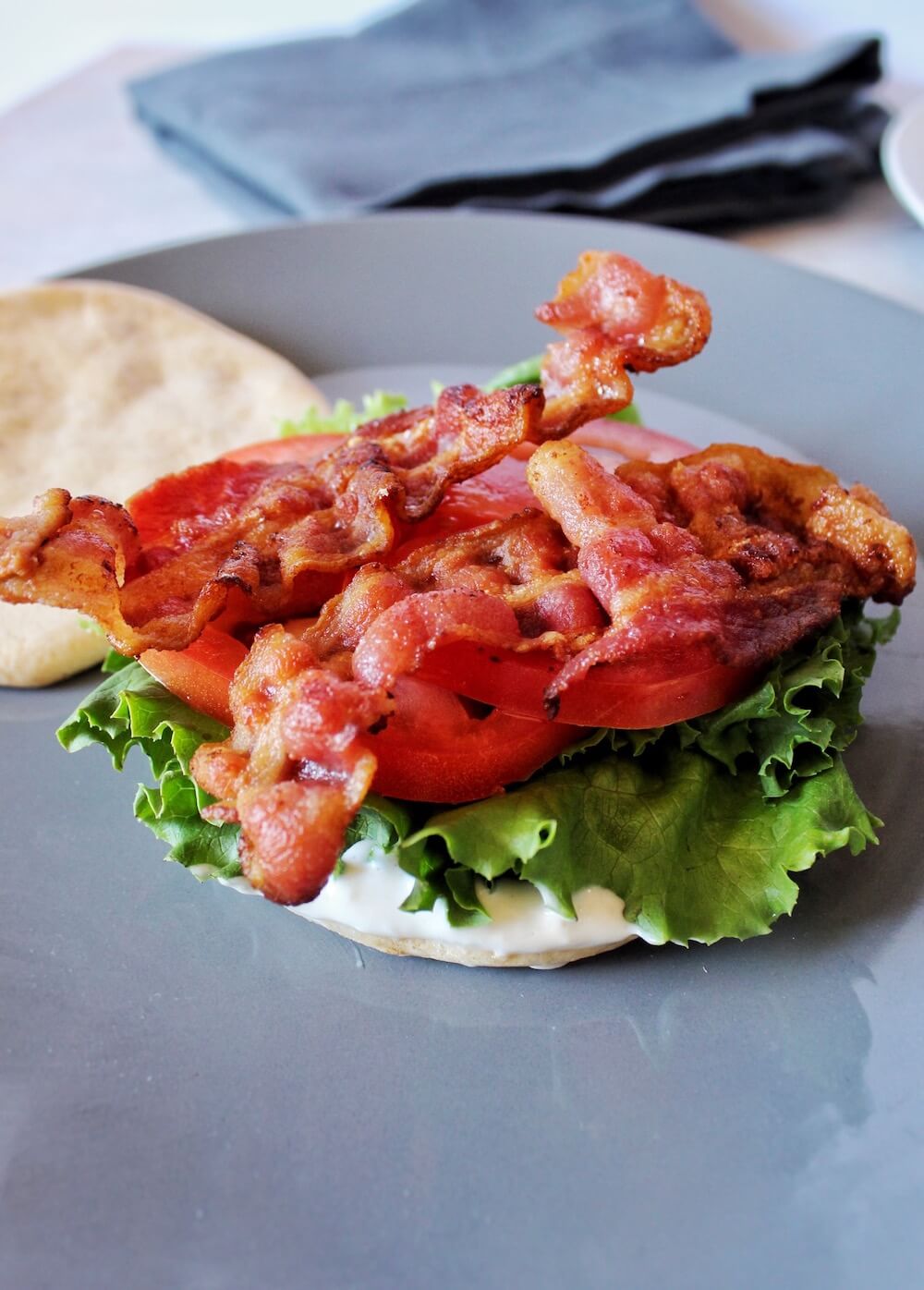 How Important Is the Bread In A Keto BLT Sandwich?
The Keto Classic BLT Sandwich MUST have bread. That's the plight of Keto. How can you call something a sandwich without bread?
Never fear, we have the perfect solution. We serve our Keto BLT sandwich on Cloud Bread, which is super simple to make. Once you've experienced it, you'll want to plan to have some on hand all the time. It's as versatile as it is tasty.
This light and airy recipe is as heavenly as the name implies. You can always kick it up a notch by adding chives, green onions, or cheddar to your cloud bread batter before baking.
Cloud bread does the job with this masterpiece. It doesn't detract from the flavor, is quick and easy to make, and allows the tomatoes and bacon to shine.
Tomatoes Are The Most Important Part Of A Keto BLT Sandwich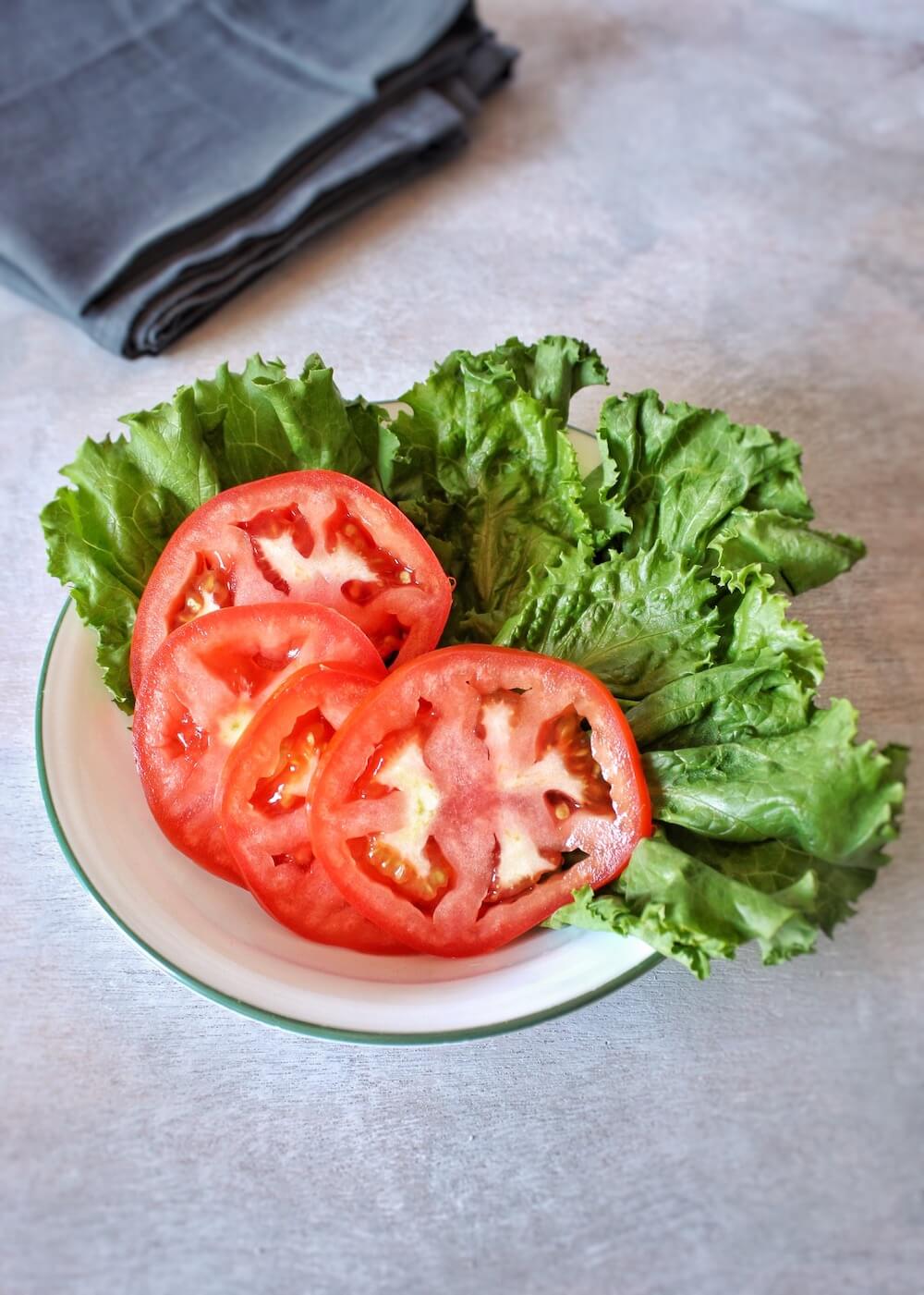 This post began with the understanding that the Keto Classic BLT Sandwich is a tribute to summer. Part of this is because the absolute best tomatoes are going to be available then. And, not all tomatoes are created equal. Let's talk about how to select this critical component of the Keto Classic BLT Sandwich–Tomatoes.
If you're lucky enough to have your own garden, then you are set. But, if you are like the rest of the world then you'll want to look for VINE RIPENED tomatoes. You can pick them up at a local grocery store or farmer's market.
Tomatoes should feel heavy for their size, this ensures there is 'meat' on them and not a bunch of air pockets. You want tomato in every bite of your Keto Classic BLT Sandwich.
Don't be afraid to give 'em a little squeeze. Look for tomatoes that feel like a full water balloon.
Consider Heirloom Varieties for a sweeter, more satisfying result.
Finally, salt is a must. You can use coarse ground sea salt or coarse ground Kosher salt. The key here is to salt the tomatoes directly. Fresh ground black pepper is optional. But, salt on a Keto Classic BLT Sandwich is the finisher and can make or break your BLT game.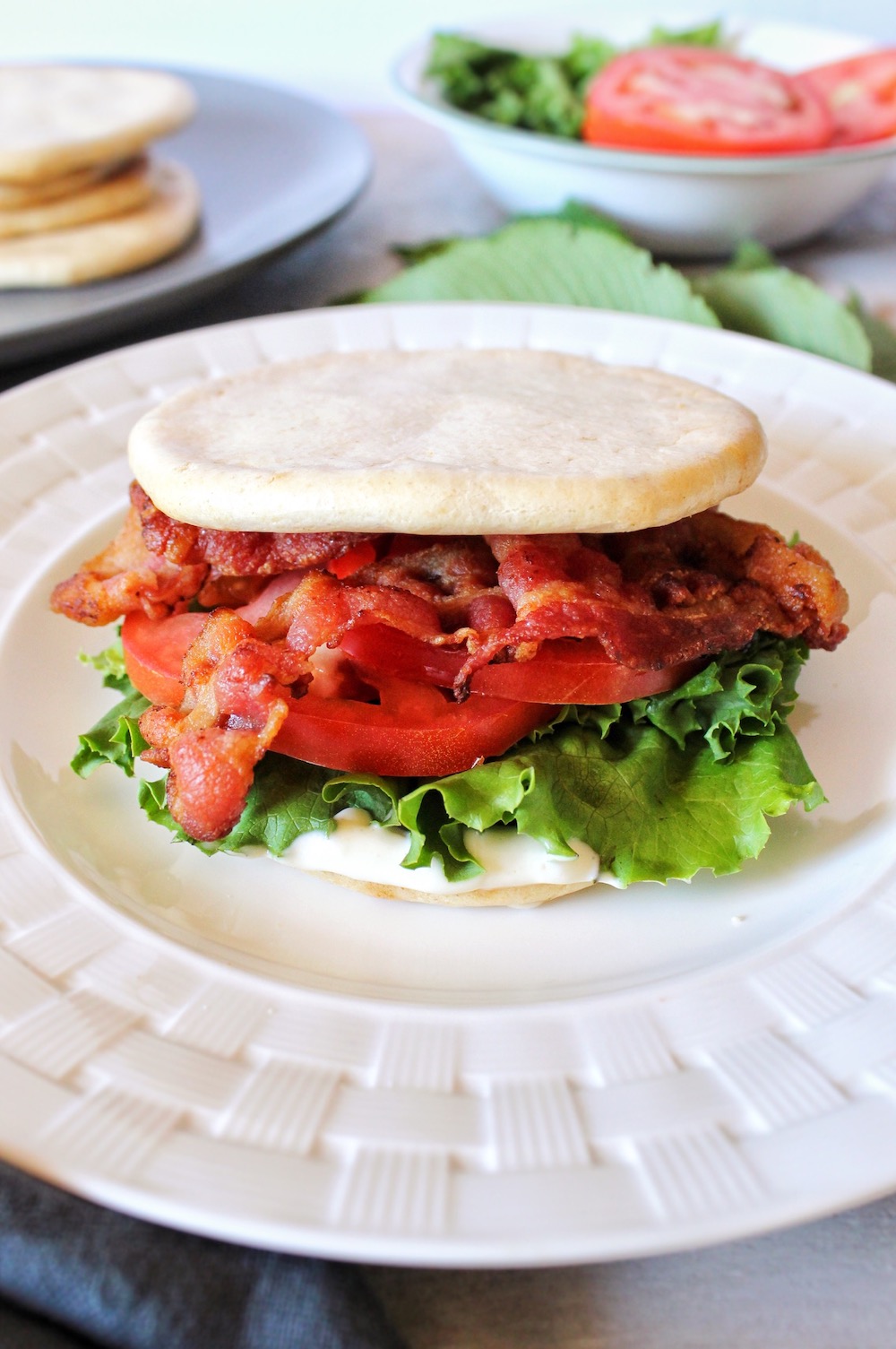 Did you make this Keto Classic BLT recipe? If so, let us know in the comments below. Have a question? Ask in the comments and we'll reply right away.
Looking for other great Keto recipe ideas? Head over to the Keto Recipes section of our website to find more great recipes that taste delicious and are easy to make.
And remember, your keto diet should not be boring!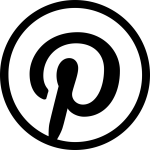 Keto BLT Sandwich Recipe On The Best No Carb Cloud Bread
Keto Classic BLT Sandwich Recipe On The Best No Carb Cloud Bread
We use our favorite no carb cloud bread to make this keto version of a classic BLT sandwich. A delicious breakfast and only 2g net carbs.
Instructions
Cook bacon until desired crispness and then break or cut each piece in half. Set aside.

Flip cloud bread pieces upside down. Spread 1 Tbsp. mayonnaise on the bottom of each piece of cloud bread. Sprinkle each with salt and pepper.

Layer each sandwich with lettuce, tomato, and 1/4 of the cooked bacon.
Nutrition Information Per Serving
Nutrition Facts
Keto Classic BLT Sandwich Recipe On The Best No Carb Cloud Bread
Amount Per Serving (1 sandwich)
Calories 454
Calories from Fat 396
% Daily Value*
Fat 44g68%
Carbohydrates 4g1%
Protein 9g18%
* Percent Daily Values are based on a 2000 calorie diet.