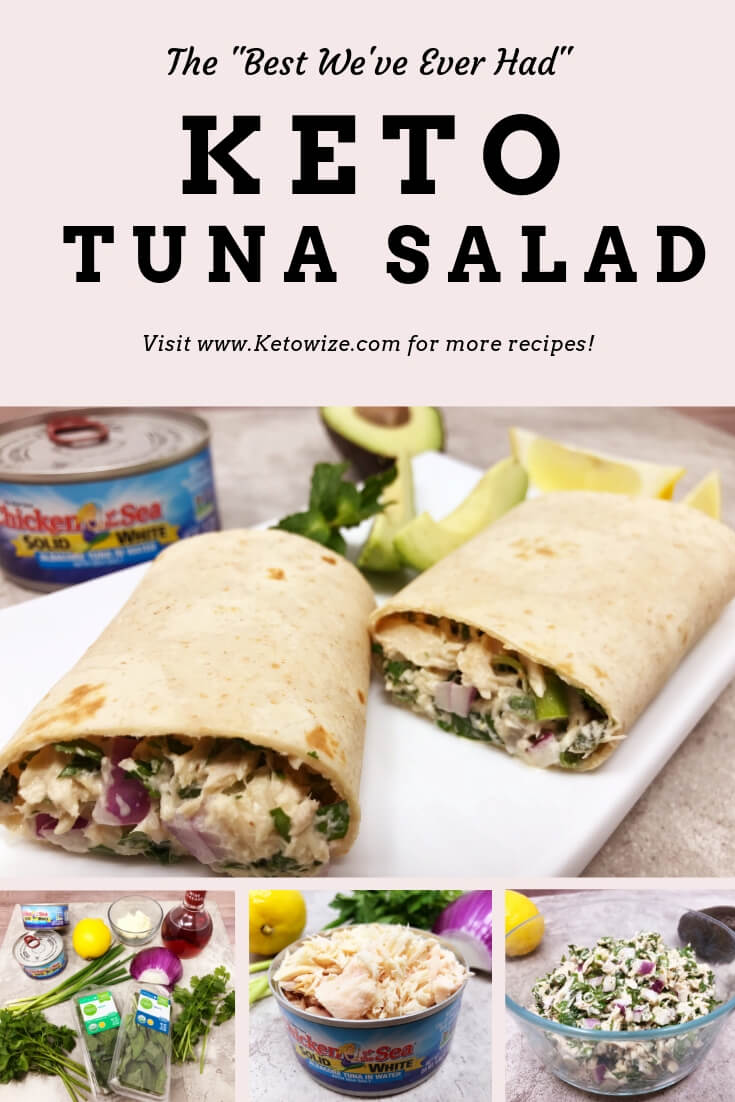 If you've tried to make tuna salad on a traditional low-calorie, low-fat diet, you probably really miss the creamy goodness of real mayonnaise. But then again, no one wants that gross "tuna goop" found in the school cafeterias of our childhood either.
With this recipe, I set out to create the most delicious tuna salad recipe ever, and boy did I ever hit the nail on the head. I did not exaggerate when I created the title of this recipe. It simply is the "best we've ever had" keto tuna salad. Heck it's the best tuna salad we've ever had…keto or not.
What sets this keto tuna salad recipe apart is we use plenty of fresh herbs like basil, mint, and cilantro to bring out the flavor in the tuna. Add in the red wine vinegar, lemon juice, and just the right spices (hello cayenne pepper!) and you're on your way to a masterpiece.
You can't expect to make the Best Keto Tuna Salad by starting with low-quality tuna. This means no chunk light store brand tuna. Sure, you can get away with it, but I can't guarantee it will be "The Best You've Ever Had!"
At a minimum, I suggest you start with chunk white tuna…with solid white tuna being the better choice.
Now, I'm not saying you have to go for the ultra-expensive line caught boutique varieties from Whole Foods. I get the below cans of Chicken of the Sea solid white albacore tuna from Costco. These large 7-ounce cans cost about $1.50 each. The Kirkland Signature brand of solid white albacore tuna is also a good choice.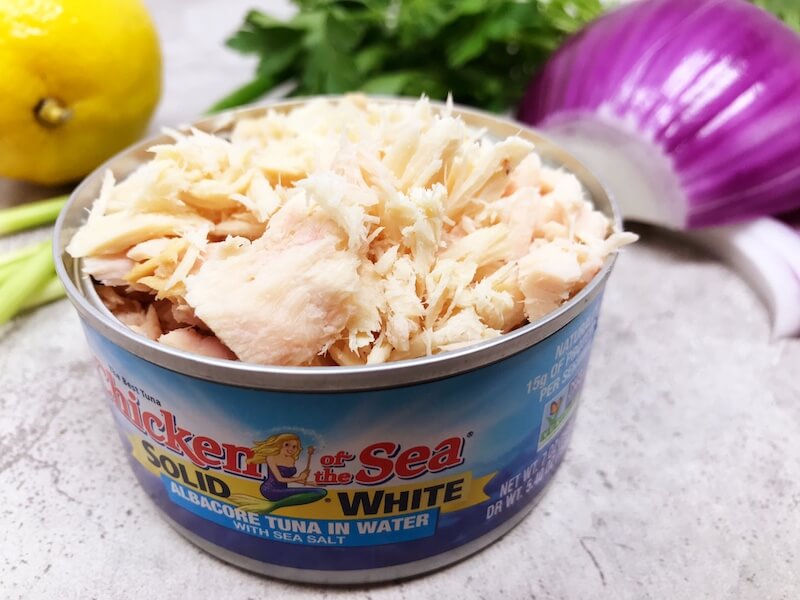 Tuna In Oil or Tuna In Water? What makes a better Keto Tuna Salad?
Let me start by saying, I love oil-packed tuna and can eat it straight out of the can or pouch without skipping a beat.
But, for this recipe, I always stick with my trusty solid white albacore tuna in water. I find I like the taste and texture of the finished product better when I start with high-quality water-packed tuna.
You are free to try either (and both are good) but know that our nutrition facts are calculated using albacore tuna packed in water. If you opt for the oil variety, you'll need to adjust the nutrition info since the fat and calories will differ quite a bit.
Herbs, Veggies, Acid, and More! The secret to the best Keto Tuna Salad Recipe.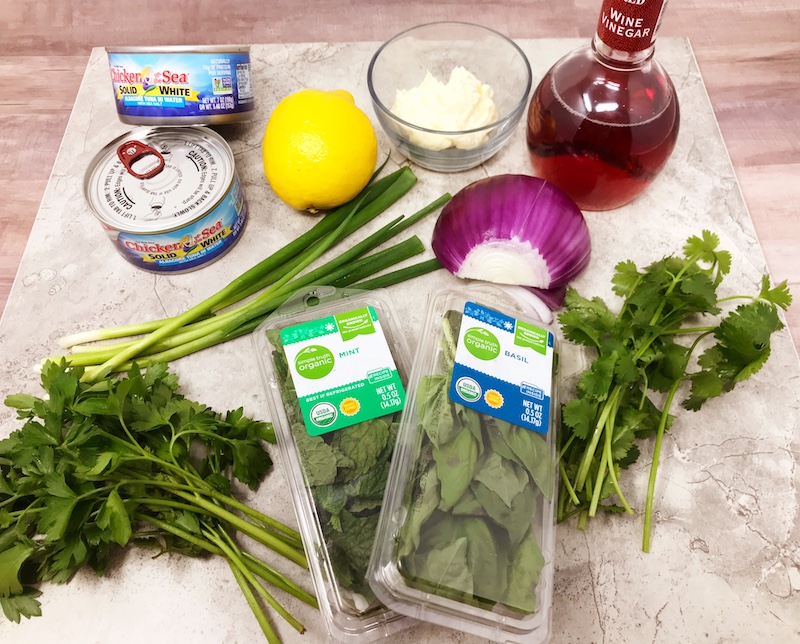 Basil in tuna salad? You've got to be kidding me! Fresh mint? Who ever heard of such a thing! Many have had a similar reaction to these ingredients, but trust me, you've just got to try it. It's that good.
The great thing about these herbs is how well they pair with the delicate flavor of the tuna meat. I know this sounds like hyperbole, but it really is a marriage made in heaven.
Now, you may find yourself craving some keto tuna salad but might not have all of the fresh herbs on hand. That's okay. Not all are mandatory. If you're missing an ingredient or two, don't skip this easy keto lunch. Here I list the fresh herbs in order of importance.
Fresh Mint
Basil
Cilantro
Flat-Leaf Parsley
I'm not saying that all of the ingredients are not important to the complex flavor of this dish. They definitely are. But if you don't have one or two, don't let that hold you back from having a delicious lunch (or dinner, for that matter). Of course, if you're trying to make the best keto tuna salad you've ever had, don't skip them.
What Sets Our Keto Tuna Salad Apart?
First, it's the sheer amount of veggies and herbs. Seriously, look at that picture below. There's tuna underneath all those onions and herbs. This should give you a sense of proportion to of those ingredients to the tuna and the mayonnaise. It's definitely different than your traditional tuna salad recipe.
But it's not all about the herbs. We also have two types of onions in there. There's just something delicious about fresh onions in tuna salad.
We've also got two types of acid in this keto tuna salad recipe. First, we add a healthy amount of lemon juice. Then, on top of that, we add Red Wine Vinegar. Don't skip this! I consider the red wine vinegar to be a key component of this dish.
Finally, we have a few basic spices. First is salt and pepper. I tend to go a little heavy on the salt because we've added a fairly significant amount of citrus and vinegar.
Then we add what I consider my "secret ingredient." Cayenne Pepper!
Cayenne pepper is one of those spices that does something magical to many dishes. It draws out and melds the flavors, adding something that's just amazing. And used in the right amount, it doesn't even add heat. Seriously, don't leave the cayenne pepper out of this keto tuna salad recipe.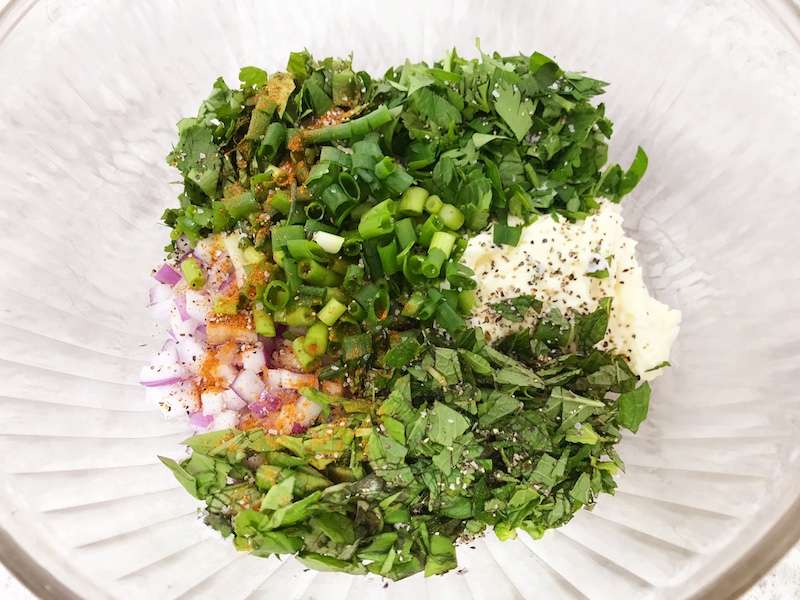 I will admit that most of the time I eat this tuna salad straight out of the bowl, but there are many different ways to enjoy this keto tuna salad recipe.
Romaine or butter lettuce leaves make a great vehicle for getting the tuna salad to your mouth and are super low-carb.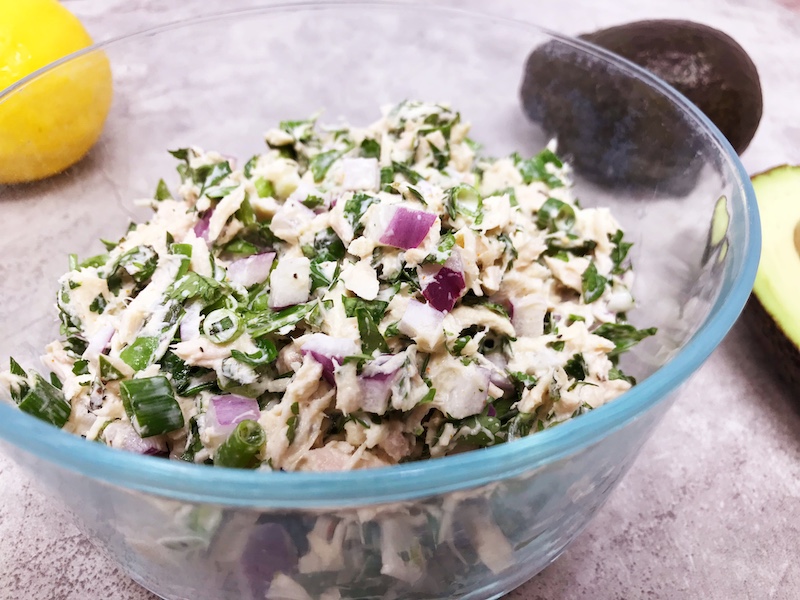 But, if you're wanting to stay a little more true to the original, we used these low carb tortillas from La Tortilla Factory with 8 grams of fiber and only 3 grams of net carbs per serving.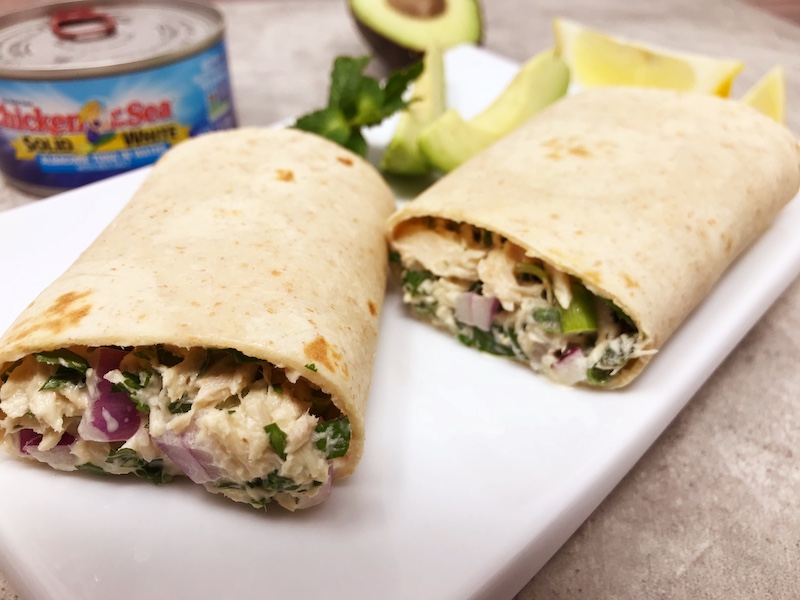 This recipe for THE BEST Keto Tuna Salad may sound a little more involved than simply opening up a can and stirring in a big glob of mayo, but I believe you will be pleasantly surprised when you try it out. In fact, I can almost guarantee it will become a staple meal on your keto journey.
When you try it out, please let me know what you think in the comment section below. And, if you have any questions, ask them their as well and we'll be sure to get them answered right away.
Until next time..Happy Keto-ing!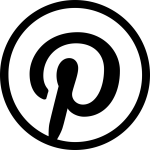 "Best We've Ever Had" Keto Tuna Salad Recipe
"Best We've Ever Had" Keto Tuna Salad Recipe
This is one of my "go to" keto lunches and it is so easy it could almost be classified as Lazy Keto. For a five-minute lunch, chop the veggies and herbs in advance and then assemble it fresh each time. Enjoy it with or without the wrap.
Instructions
In a large bowl, break up the tuna with a fork. Do this first, as it makes incorporating the other ingredients easier.

Add mayonnaise, red onion, green onion, mint, basil, cilantro, parsley, lemon juice, and red wine vinegar.

Mix well with a fork to combine all ingredients.

Add cayenne pepper, salt, and pepper to taste. Mix again and taste, adding more seasoning if desired.

See notes below for serving suggestions.
Notes
SERVING SUGGESTIONS: Eat straight out of the bowl or serve in a low carb wrap (we chose La Tortilla Factory tortillas at only 3g net carbs). Or serve in romaine or butter lettuce leaves which add only an insignificant amount of calories and net carbs.
NUTRITION NOTE: Since serving preferences vary, nutrition information below was calculated for the tuna salad only. Also note, the nutrition information is calculated using tuna packed in water. If you choose to use tuna packed in oil, please adjust the nutrition accordingly.
Nutrition Information Per Serving
Nutrition Facts
"Best We've Ever Had" Keto Tuna Salad Recipe
Amount Per Serving
Calories 176
Calories from Fat 117
% Daily Value*
Fat 13g20%
Carbohydrates 2g1%
Protein 11g22%
* Percent Daily Values are based on a 2000 calorie diet.