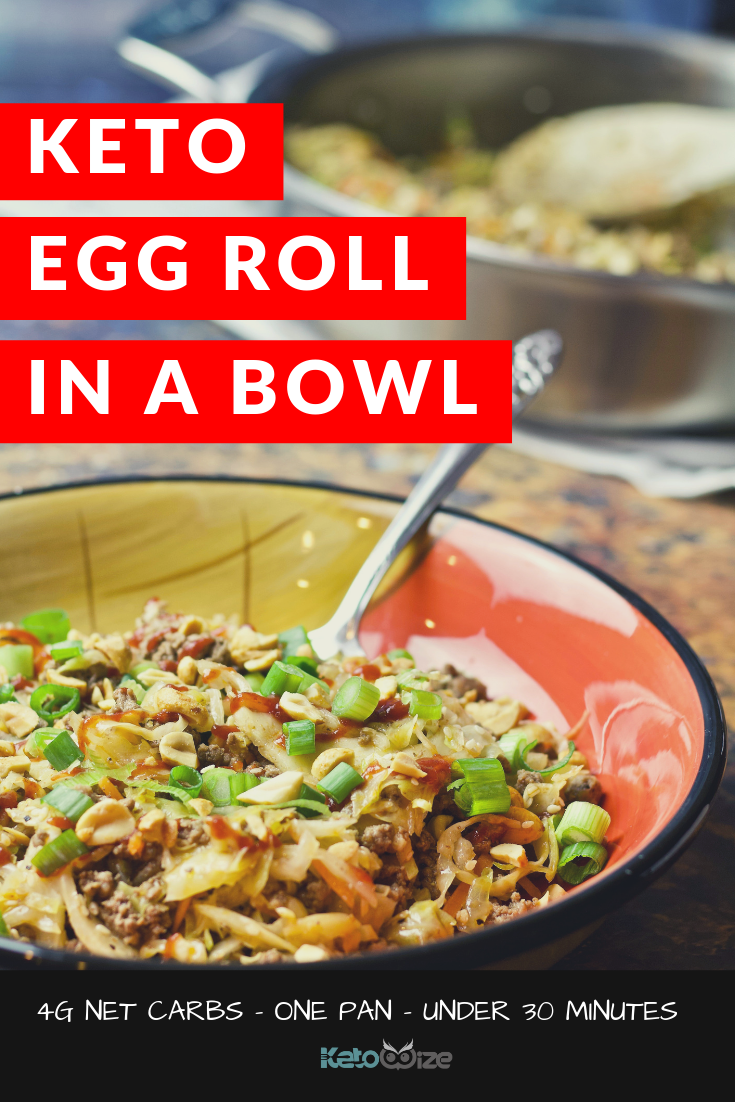 I've got a secret to tell you.
It's not a "national security" type secret or anything like that, but it truly is my secret to success on almost any diet.
Asian food!
That's right, Asian-inspired cuisine is one of my favorites, and this easy, keto egg roll in a bowl recipe tops my list.
Here's a little secret…
I have eaten this dish many times during my "in between keto" phases. You know, those stints where you're not on keto.
But I digress…
Easy Keto Egg Roll In A Bowl Recipe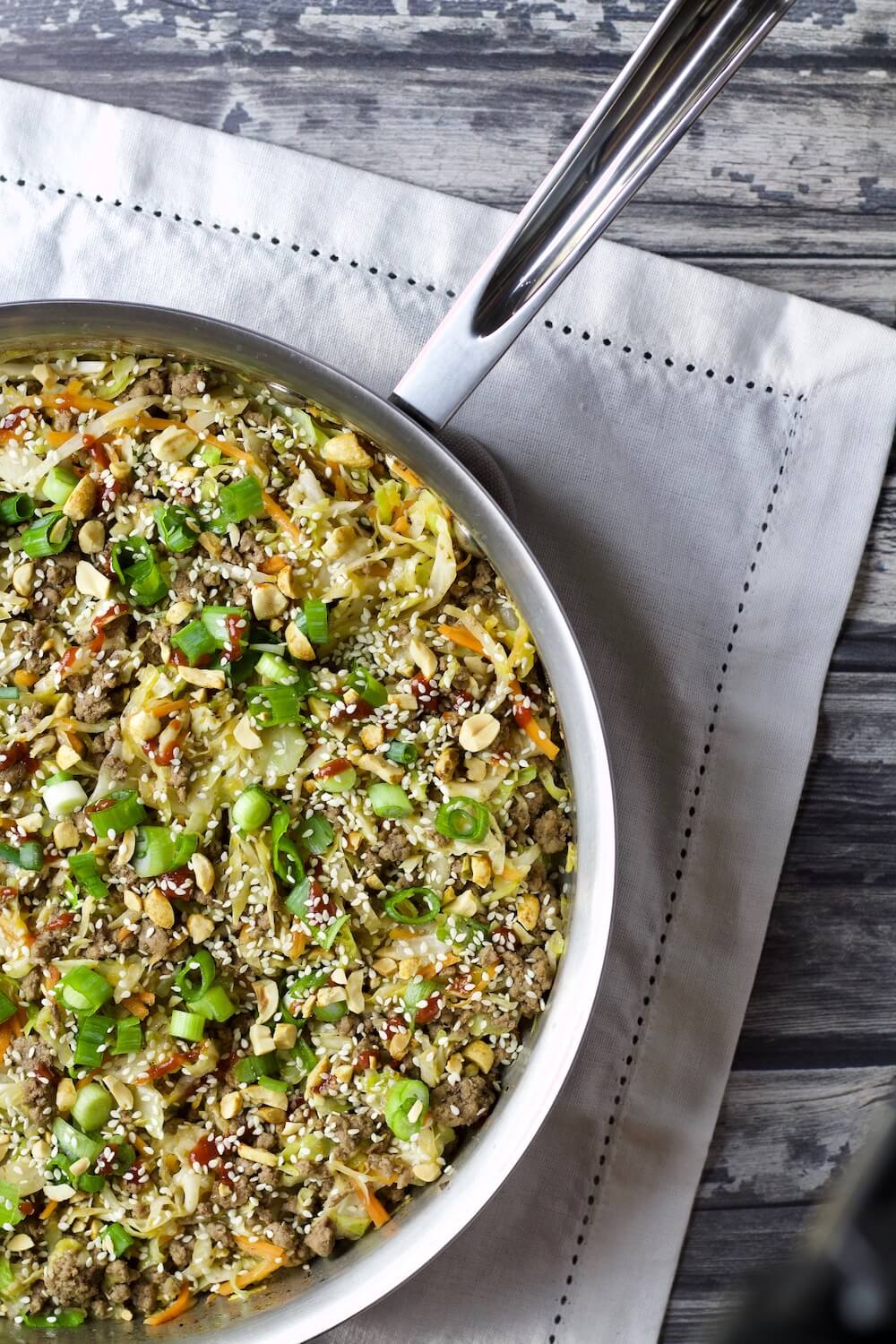 So let me begin by saying, I did not invent this keto egg roll in a bowl recipe…I only made it better.
A very similar version of this dish circulates Pinterest and Google going by the name of "Crack Slaw," though I'm not too sure that most versions of that recipe are "keto!"
Now I said above that I made this dish better. How?
I lowered the carb count in this recipe significantly. This dish comes in a mere 4 grams net carbs per serving.
Better than that, I upped the flavor. A LOT!
Delicious Keto Egg Roll In A Bowl Ingredients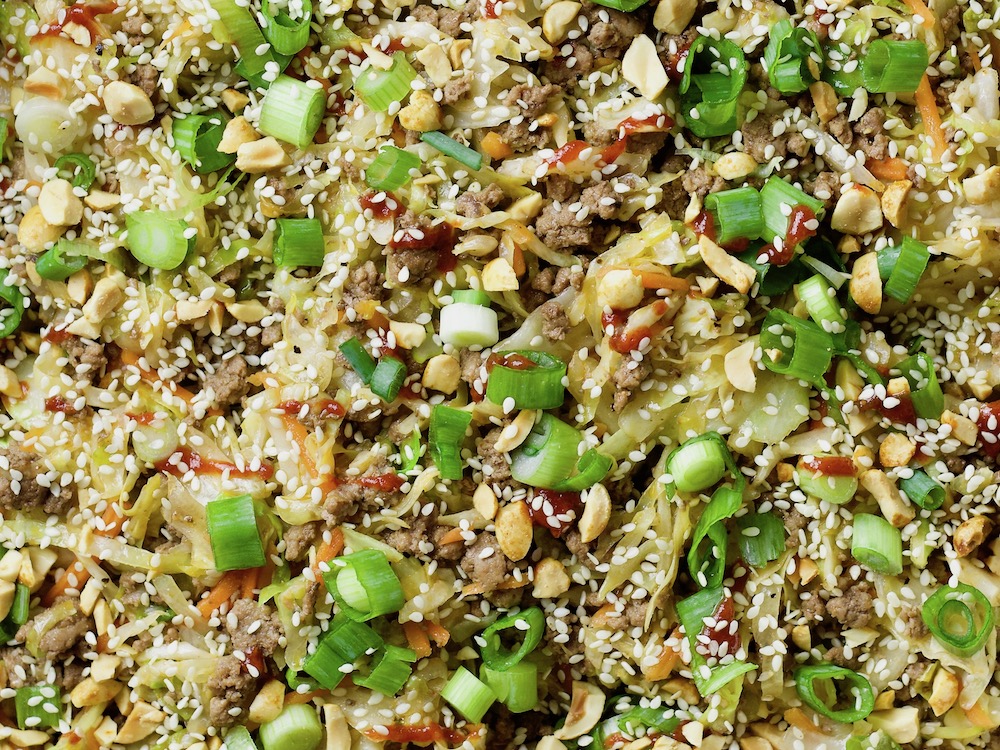 The base for my keto egg roll in a bowl recipe starts with some familiar (and very keto-friendly) ingredients.
We begin by sauteing ground beef and cabbage in savory sesame oil. This creates the foundation upon which we will start adding the "big flavors."
I like to use a fatty ground beef or ground chuck for this recipe. Try not to go any leaner than 80/20 if you can.
NOTE: Do not drain the fat after browning the ground beef. Keeping the fat helps us easily hit those coveted keto macros.
Next, we add Sriracha hot sauce for a little spice, soy sauce or coconut aminos for that umami flavor, and rice vinegar for an acidic punch.
NOTE: Choose a rice vinegar with 0 carbs. They are out there. You simply have to look around a bit.
Keto Egg Roll In A Bowl Topping Ideas
In this recipe, I give you a few optional topping ideas for your keto egg roll in a bowl.
While I marked all of these ingredients as optional, I recommend you add them. They really amp up the flavor and are already included in the macros.
Go for it! You've got nothing to lose.
Sesame Seeds: These delicious seeds are full of vitamins, minerals, and heart-healthy fiber. Not only that, they add a delicate "nutty" flavor to the finished dish.
Green Onions: The addition of green onions to this dish is both optional and necessary. What I mean by that is that some people don't like onions. If that's you, feel free to leave them out. Everyone else, definitely add them.
Chopped Peanuts: This add-in is a nod to one of my favorite Asian dishes – lettuce wraps. I love the extra crunch they give this tasty recipe.
Additional Sriracha: Can't get enough spice? Feel free to add some extra Sriracha hot sauce. Be warned: a little goes a long way.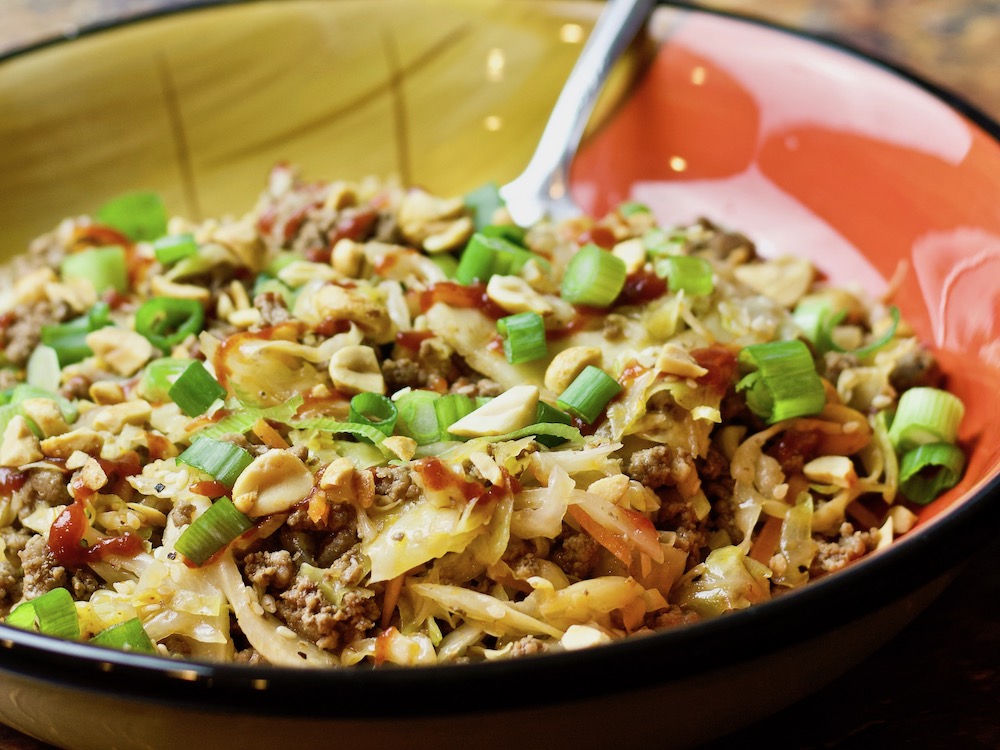 Did you try out our Easy Keto Egg Roll In A Bowl recipe? If so, let us know in the comments below. Have a question? Ask in the comments and we'll reply right away.
And remember, eating keto SHOULD NOT be boring!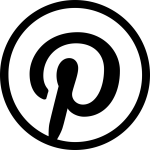 Keto Egg Roll In A Bowl Recipe – Easy Weeknight Dinner
Keto Egg Roll In A Bowl Recipe
Keto Egg Roll In A Bowl Recipe. Super delicious, yet easy enough for a weeknight dinner and ready in less than 30 minutes. Low-carb dreams do come true.
Nutrition Information Per Serving
Nutrition Facts
Keto Egg Roll In A Bowl Recipe
Amount Per Serving
Calories 402
Calories from Fat 288
% Daily Value*
Fat 32g49%
Carbohydrates 6g2%
Protein 22g44%
* Percent Daily Values are based on a 2000 calorie diet.